Tourism to Japan is recovering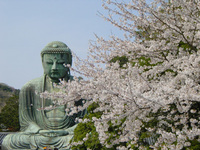 One-year on from the devastating Tohoku disasters, InsideJapan Tours is delighted to announce its most buoyant February in all of its twelve-year history and an 8% increase in February sales compared with the same month in 2011.
InsideJapan Tours Director Simon King commented: "These great results indicate a strong recovery of the inbound Japan travel market after the earthquake and tsunami of March 2011. These figures are encouraging and Japan is looking forward to welcoming large numbers of UK visitors in 2012."
Many of the February bookings are for travel in April, during Japan's cherry blossom season, which last year saw a saddening and dramatic drop in visitors. This year, though, everyone - from ryokan owners to restaurant managers, and tour guides to taxi drivers - will be feeling much more positive because tourists are returning to Japan its most celebrated season.
InsideJapan Tours recommends the following spots for cherry blossom viewing or hanami:
Tokyo - even in the world's most sprawling metropolis, the cherry blossom is abundant; Ueno Park and the traditional Hamarikyu Gardens become awash with pink during April.
Kamakura - an historical seaside temple town, located one hour from Tokyo. Follow the cherry blossom tree-lined path from the old town to Tsurugaoka Hachimangu Shrine - beautiful.
Kyoto - experience one of Japan's favourite cultural past-times and head to Maruyama Park, where families, friends and geisha gather under the cherry blossom trees to drink, eat and be merry.
Hikone - located close to Kyoto, the samurai town of Hikone is famous for its ancient castle, a national treasure whose beauty is enhanced by the blossoming cherry trees in its grounds.
Miyajima Island, Bay of Hiroshima - see the island's World Heritage temple buildings framed in cherry blossom pink; the bright red temple gate completes the unforgettable vista.
Sample itinerary: 'Golden Route', costing £1,640 pp including nine nights' accommodation in Tokyo, Hakone (near Mount Fuji) and Kyoto; daily breakfast; two evening meals; private guiding in both Tokyo and Kyoto, domestic transfers and more.
InsideJapan Tours would like to thank the general public's overwhelming support and generosity in the aftermath of the tsunami and earthquake. In excess of £25,000 was raised for the Japanese charity Civic Force which continues to work directly with the people hardest hit by the disasters.
For those who wish to get involved and help the Tohoku communities rebuild their towns and lives, InsideJapan Tours can add a volunteering package, including transfers and full-board accommodation to any itinerary. This year, the 14-night A Northern Soul tour which visits Hiraizumi, Niigata and Sado Island, amongst other beautiful rural parts of northern Japan, also includes the option of two days volunteering in tsunami devastated towns.
For further information, visit insidejapantours.com.