Skiing in South Korea and Japan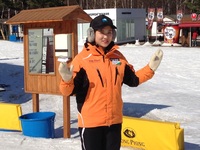 With happy clients already enjoying the pistes across the world, Ski Safari is excited to announce the arrival of South Korea to this winter's programme.
When asked about South Korea, what comes to mind? World-renowned technology brands such as Samsung or Hyundai, ancient and historic Buddhist temples, fermented kimchi or even K-pop with Korean rapper Psy, who horse danced his way around the world with his track 'Gangnam Style' which became a world-wide internet sensation.
However, over the next four years the country's profile as a world-class winter sports destination will be making it famous for a different reason. South Korea will be home to the next Winter Olympics in 2018 in the PyeongChang region of the country. For the first time, Ski Safari will feature the resorts of Yongpyong and Phoenix Park with skiing also available at the resort of Alpensia, which is not available through any other ski tour operator in the UK. It's a mere two and a half hours towards the east coast to the resorts from the capital Seoul, with a winter season which stretches from December to March, with surprisingly good value accommodation and package prices.
Yongpyong Resort is the most Alpine feeling resort with 15 chairlifts, 31 pistes and is the largest and oldest ski resort in South Korea. Dragon's Peak at 1,458m at the top of the Rainbow gondola is where most of the Alpine skiing action will take place in the 2018 PyeongChang Winter Olympic Games. The 3.7km gondola whisks skiers offering easy access to the Grand terrain park, which offers all levels of skiers the best conditions for showing off their technique. Accommodation options range from the Dragon Hotel at the base of the resort right through to traditional Korean-style accommodation (Ondol rooms). Entertainment is on site with neon bowling alleys and the Tower Plaza amusement and food complex, as well as the indoor Peak Island Water Park with water flumes, family zones and a spa
.
Phoenix Park with 21 slopes will host the Ski Moguls, Aerials and Ski Cross as well as Snowboarding for the Parallel Giant Slalom, Snowboard Cross and half pipe. The top of the resort, Mont Blanc, is situated at 1,050m with views to Mt Taegisan. The resort offers everything from bespoke child friendly tubing parks to night skiing. The resort is open daily from 08.30 – 04.00, with night skiing into the early hours. High-end water parks full of exciting water amusement facilities can be found in both resorts, as well as luxurious spa facilities with exotic rooms including a Jjimjil bang (steam sauna room).
Staying in South Korea is about getting off the beaten track in terms of cities and skiing.
Seoul is Korea's ancient yet modern capital. At one turn lie the gates of the Royal Palace, on the next a bustling traditional food market, or a high end funky shopping mall with pulsing neon. Alternatively, sample the high life by taking a ride in the Namsan cable car to the N Tower for captivating views over the city with a population of 11.5 million inhabitants. The traditional Korean atmosphere is found in Insa-dong's Central Street, filled with antique shops and art galleries, while its back alleys are lined with traditional teahouses and Korean restaurants.
It's been over 60 years since the outbreak of the Korean War and the drawing of the 155 mile cease-fire line along the 38th parallel, which created the Demilitarized Zone (DMZ). Symbolizing both war and peace, division and unification, the DMZ is a place where time has stopped still. Visit the underground tunnels that were intercepted by the South Koreans and stand metres away from North Korea and learn about the history at the Dorasan Observatory. Peppered with World Cultural Heritage sites, there are so many places to explore, and with a vibrant nightlife it's a city worth seeing.
The Korean culture is quite unique in its approach to food. Food seems to permeate every aspect of life. Kimchi is the national dish of Korea. At first it can sound daunting to us westerners because of the word "fermented" but we already eat a lot of fermented foods, including yoghurt and bread. In the case of kimchi, the cabbage is coated leaf by leaf in a delicious spicy mix of hot pepper flakes, garlic, chives, onion, pear juice and more. It lasts for months and is also used as the base for many other dishes such as kimchi stews and even as a filling for Kimbap (Korean sushi). Kimchi is such an important dish in Korea that it is eaten with breakfast, lunch, and dinner. Other specialties include Korean BBQ where cooking on a grill inside is a full on event. With this in mind, it's time to pack your Won currency and hit the slopes.
South Korea will appeal to those who want to get under the skin of the country for a cultural hit and to ski in a different destination. Japan, is known for powder skiing and with the Ski Asia Safari this twin centre holiday will appeal to those in search of big snow and a new experience in Korea.
Niseko is in Hokkaido, the north island of Japan, about two hours from Sapporo. Some of the lightest and deepest powder in the world falls here presenting a superb opportunity to ski 12 – 15 metres of powder on extinct volcanoes; its western position is perfectly placed to receive weather straight from freezing Siberia. The sheer amount of snow is mind boggling - 3m-high walls of snow line the road, dwarfing coaches. Niseko has 47km of groomed runs, and back-country for the adventurous. In Japan, throw out any of your insecurities and go naked – in an onsen. Every Japanese ski resort has an onsen — where hot thermal springs are pumped into huge outdoor and indoor pools. After a day of calorie burning, an ice-cold Sapporo beer and izakaya (Japanese pub-style food) will be in order.
Ski Safari Founder and Chairman Richard Rice says: "In Korea we have brand new destinations to offer the ski fraternity – not only are they different, but they offer a new experience that marries an infectious and invigorating city with accessible skiing in the PyeongChang region of the country. In Korea you will discover that Seoul is intriguing with resorts that are ideal not only for families and those learning to ski but also for skiers with a passion to try something new. In Japan the resorts are beautiful, simply snow laden, and ideal for those longing-for the powder rush and a full on eastern cultural submersion. In fact, both South Korea and Japan are perfect destinations for a family Christmas and half-term holidays. Don't forget, there are also fantastic options for other activities and for adding on unique, lifelong memories, such as seeing the DMZ or eating sushi. Ski Safari is all about creating holidays that are so much more than just skiing holidays!"
Richard continues, "Not only this, but we have tested these resorts and seen what they have to offer. Some clients want to add a big city stay to the beginning or end of their trip and this is what the Niseko – Seoul option has to offer with direct flights with Korean Air from London to Seoul and then direct to Sapporo. Korean Air is also very generous with the luggage allowance permitting two pieces of luggage per passenger, enabling skiers to take their own skis if they wish. Always dreamed of tracking down the best powder on a multi-resort ski safari? Want to combine the best of both worlds on a unique ski and city holiday in Asia? We will make this happen for you".

Whether you're a snowsports novice or an experienced master of off-piste thrills, Ski Safari is here to offer something new and extraordinary. Already an acknowledged leader in providing tailor-made ski and snowboarding holidays in the USA, Canada, Scandinavia, Japan and Switzerland, Ski Safari now brings its renowned personal service across more of Asia with the addition of South Korea.
Welcome to Asia

For a taste of the new winter season in Asia, check out these amazing trips:
South Korea – Seoul and Yongpyong Resort, 8 nights
This wonderful 8-night trip, including accommodation at the 3*+ Dragon Valley Hotel in Yongpyong and the 4* CenterMark Hotel in Seoul, flights with Korean Air and transfers costs £1230pp based on 2 adults. For more information, visit skisafari.com.
Ski Asia Safari: South Korea and Japan – Seoul, Yongpyong and Niseko, 14 nights
This 14-night ski safari, including accommodation at the 3*+ Dragon Valley Hotel in Yongpyong, the 4* CenterMark Hotel in Seoul and the 3*+ Hirafu Apartments in Niseko, direct flights with Korean Air and transfers, costs £1970pp based on 2 adults. For more information, visit skisafari.com.
City & Ski South Korea and Japan – Seoul and Niseko, 10 nights
This wonderful 10-night trip, including accommodation at the 4* CenterMark Hotel in Seoul and the 3*+ Hirafu Apartments in Niseko, flights with Korean Air and transfers costs £1560 pp based on 2 adults. For more information, visit skisafari.com.