South Africa tops the charts at i-to-i Volunteering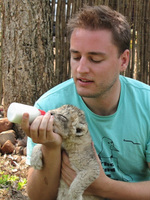 There are two sure ways of truly getting under the skin of a country. The first is to dismiss the bright lights of the high rise hotels and head for the homes of local communities. The second is to work with locals to uncover the passions and customs of a chosen destination. For those who are looking for a new dream, a volunteering adventure this summer could provide both.
South Africa has topped the list as the most popular destination for structured volunteering programmes according to recent research by i-to-i Volunteering. Kenya quickly recovered its place in the top three once the security situation in neighboring countries returned to normal, while Costa Rica and the multitude of projects on offer featured for the first time in the top three.
South Africa's enduring popularity stems from the diverse nature of the country and the availability of a wide range of suitable and worthwhile projects. These projects range from conservation work in the many public and private game parks working with animals, a variety of teaching placements and many opportunities to volunteer in orphanages including HIV/Aids awareness programmes. These projects can last from a couple of weeks to a whole year. South Africa is also seen as a comparatively safe destination, there are more flights than in previous years, lots to see and the cost of being in the country offers great value.
i-to-i Volunteering specialises in shorter term volunteering from 1 week upwards. Some people will combine multiple projects and destinations to create longer trips but the vast majority of travellers will be short-term volunteers who do their bit and then pass on to another volunteer as they arrive. The longer a volunteer works on one project the deeper the experience will be. With all children related projects volunteers will have a minimum of two weeks in situ as this is more beneficial for the children and the projects.
Top Three trips
Live with lion cubs in South Africa
i-to-i Volunteering offers travellers the opportunity to wave goodbye to the tourist trail and embark on the closest of encounters with future princes of the jungle. At this lion cub research and conservation center near Johannesburg in South Africa, budding volunteers can actively participate in raising the cubs and caring for other members of their family. Daily duties include feeding, research, enclosure maintenance, assisting the vets as well as plenty of free time to explore the surrounding areas. Set in a stunning location the reserve is home to a number of lion cubs and it's popular as it's not every day you get to be up close and personal on such a safari. Prices start from £1,399 for 2 weeks land only with durations available up to 6 weeks. Accommodation is provided in a shared volunteer lodge. All food is provided. The trip also includes airport pick-up, in-country orientation and 24 hour support.
Community work with children in Mombasa
Volunteers will provide general care and assistance in looking after the children, which involves playing games, teaching English & basic life skills. Mombasa is Kenya's second largest city and is home to more than 30,000 street children and many more youngsters who have been orphaned by HIV/AIDS. Volunteers can also enjoy this stunning coastal city, which boasts some of the world's best beaches. Whilst at times the projects may be challenging, the hard work is very worthwhile and it's a project like as they report amazing rewards from their experience. Prices start from £724 for 2 weeks land only with durations up to 12 weeks available. Accommodation is provided in a guest house or homestay - this can be chosen by the volunteer prior to travel. All breakfasts and dinners are provided. The trip also includes airport pick-up, in-country orientation and 24 hour support. Visit
Sea Turtle conservation in Costa Rica
This is a great opportunity to get involved in helping to preserve this amazing endangered species and gain an insight into marine biology as well as receiving specific training which will enable volunteers to help with research and data collection. The volunteers play an important role in helping to safeguard the existence of this species by cleaning beaches in preparation for the nesting season and taking part in regular beach patrols. This trip is popular as everyone loves the idea of the Volcanoes of Costa Rica and all the opportunities to see amazing wildlife from frogs to Sloths. The turtle project offers a sense of achievement of saving an endangered species it's a great project to get involved with.Prices start from £599 for 1 week (available for up to 4 weeks). Accommodation, all meals, airport pick-up on arrival and an in-country orientation are included along with 24hr support.
The overwhelming feedback received from people after travelling is how significant a moment the trip has been in their lives, how much they've learned about the country and culture that they've travelled to, the friends that they have made/ Most significantly is how moved they have been by the dedication of those running all the projects i-to-i Volunteering collaborate with and the gratefulness of having had the opportunity to be a part of that work in country.
For further information, visit i-to-i.com.