Mobile-free beaches bring freedom from gadget addiction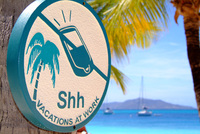 A Caribbean hotel group is urging holidaymakers to ditch their mobile phones, blackberries and laptops whilst their on the sun-lounger by creating 'mobile free' beaches at all its resorts.
Elite Island Resorts has introduced the new 'no mobile' policy at nine beaches spread across Antigua, Grenada, the Grenadines, St Lucia and Tortola in the British Virgin Islands, to help people to escape from the gadgets that occupy so much of modern life.
The move, which is believed to be a first for any holiday resort group, follows a successful trial at Palm Island, a private island resort in the Grenadines, which was the world's first beach to become mobile free almost two years ago.
"Caribbean holidays are all about kicking back and enjoying the sun, sea and cocktails but so often people are distracted by their mobiles or blackberries," said Paula Whitehead, European managing director, Elite Island Resorts. "You only have to see an email from work on the sun-lounger for all the relaxation power of a holiday to go out of the window. Although we offer all the high tech connectivity in different areas of the resorts, we want guests to know they have the choice of completely switching off it they want to."
Resorts, which include The Verandah Resort & Spa and St James's Club in Antigua along with LaSource in Grenada and Morgan Bay Beach Resort in St Lucia, all have at least one beach for guests to enjoy. Initially the "no mobile" policy will be restricted to one beach - or section of the beach - at each resort.
New consumer research reveals that 77% of people believe that time without gadgets and technology would liberate them, improve their relationships, make them a better person and give them more time for their loved ones.
The research also shows that 44.8 % agree or strongly agree that they now feel their concentration is compromised and they find it difficult to focus on one thing at a time.
"Mobile technology and social media give us freedom to communication 24/7 but people can find themselves becoming slaves to them even on holiday. We want people to have a break from them, even if it's just for the few hours they are on the beach."
One beach at each of Elite's resorts will be mobile free. It will not be policed in any structured way but guests will be asked politely to respect the policy.
Signs have been placed at all beaches and guests are reminded about the policy when they check-in and in the information packs in their rooms.
Example prices:
Kuoni offers seven nights on all inclusive at St James Club, Antigua in a club room, including flights with Virgin Atlantic from Gatwick with transfers in resort. Prices for June 2012 are from £1416 per person, which includes a saving of up to £258 per couple. *Book by 12 March 2012*
Kuoni offers seven nights on all inclusive at Palm Island Resort, Grenadines in a palm view room, including flights with British Airways from Gatwick with transfers in resort and a lounge in the UK on departure. Prices for June 2012 are from £1856 per person, which includes a saving of up to £926 per couple and one bonus night.
Kuoni offers seven nights on all inclusive at Verandah Resort & Spa, Antigua in a waterview junior suite, including flights with Virgin Atlantic from Gatwick with transfers in resort. Prices for June 2012 are from £1389 per person, which includes a saving of up to £258 per couple and one bonus night. *Book by 12 March 2012*