Rover reporter helps rescue dogs with new dog friendly website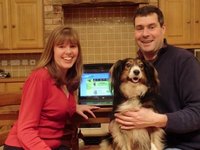 Meet Holly the shy rescue Collie-cross. She's the rover reporter behind a new pooch friendly website called Rover Recommended.
It's the first UK dog friendly travel website run by a rescue dog for other rescue dogs. All proceeds from the site are donated to the Border Collie Trust GB, who saved Holly from a pound in Ireland by sending her on a ferry to arrive at their headquarters in Rugeley, Staffordshire.
That must be when Holly first caught the travel bug. Since then she hates to be left home alone and is never happier than when she is sniffing out the most fun places to stay and visit.
Holly says "I'm no lap dog. I love to go out and about with the nice couple who rescued me and share my recommendations for great days out and holidays. I've not forgotten my friends at the Border Collie Trust who saved me, so every penny that I raise through my site helps other doggies to find a good home."
Holly's adoptive parents, Louise Dolan and Simon Howgill, helped her to set up Rover Recommended as it's difficult to type with paws.
Every dog has its day and Holly (aka Rover) is already a local celebrity having appeared in newspapers, magazines and on the Kennel Club's facebook page. Holly keeps in touch with her four-legged friends and pedigree chums by posting Woofs on the site.
Visits to Rover Recommended have doubled in the last month and the Border Collie Trust GB will be promoting the site at their stall at Crufts on 8th-11th March 2012.

For more information, visit roverrecommended.com.