Home Group makes 'quality of life' hotspot Wokingham affordable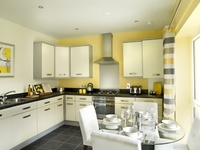 Home Group highlights that Wokingham has maintained its position as number three in the Halifax 'Quality of Life' survey. With such an accolade, it is no wonder the local community is finding it hard to get onto the property ladder. Average house prices increased in January compared to the previous month: by 1.4% for a one bedroom apartment and 2.6% for two bedroom apartments.
With this in mind, Home Group is launching Wiltshire Place, a collection of stunning one and two bedroom apartments, through shared ownership priced from just £61,250 for a 35% share. Located on Wiltshire Road, the 12 apartments are designed with the appearance of two manor houses complementing the traditional style of properties in this exclusive area. Interested purchasers should visit the development on the 19th March for a preview of the properties available.
Sophia Arain, Sales and Marketing Manager for Home Group comments: "As the Halifax survey suggests, Wokingham has a great reputation for being a good place to live. Home Group is therefore pleased to be offering new homes in the area of a high standard at an affordable price for local people."
Sophia continues: "Shared ownership helps people onto the property ladder who cannot afford to buy a home outright, and provides an easier way to become a home-owner. It means that instead of raising a full mortgage on your new home, you can buy part of it and pay a subsidised rent on the un-purchased share."
Wiltshire Place offers the ideal opportunity for first time buyers to get onto the property ladder at an affordable price. Furthermore, the apartments are brand new and offer fantastic specifications so you get the best of both worlds, a fantastic new apartment in a great location at an affordable price!
The apartments at Wiltshire Place offer an open plan layout, ideal for modern living. Features include contemporary style fitted kitchens with hob, stainless steel electric oven, chimney extractor, splash back and washer dryer. Bathrooms meanwhile have thermostatically controlled showers with shower screen and vinyl flooring.
Some of the ground floor apartments have their own private entry while some of the top floor apartments feature large porthole windows with wonderful views of the landmark church spire, as well as the town centre just 3 minutes away.
Prices at Wiltshire Place start from £61,350 for a 35% share of a one bedroom apartment, based on a full market value of £175,285. Two bedroom apartments start from £76,125 for a 35% share based on a full market value of £217,500. For further information, visit homegroup.org.uk.