Better to buy than rent at Locking Parklands, Weston-super-Mare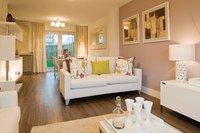 St. Modwen Homes, the developer behind the popular Locking Parklands development in Weston-super-Mare, is encouraging anybody renting a property in the area to consider the advantages of purchasing a home before signing their next rental agreement.
According to recent research by Halifax, owning a property is now £100 or more a month cheaper than renting, with a widening gap emerging.
Statistics from St. Modwen Homes reveal that a two bedroom apartment at Locking Parklands, priced at £125,000, could have monthly mortgage repayments of just £385 compared to a similar home in the area with a monthly rental figure of £600 – marking a saving of more than £200 per month.
Neil Simpson, residential sales and marketing director at St. Modwen Homes says: "Many people are remaining in the rental market because they believe that it is their only option, however the prices of homes at Locking Parklands means that owning a property doesn't have to be a distant dream. With rental costs rising significantly in recent years, it is becoming the norm for monthly mortgage repayments to be considerably less than monthly rental outgoings – meaning that your earnings will actually go much further if you own a property than if you remain in rental accommodation.
"By owning your own property you are investing in your future and we've had so many people view the homes at Locking Parklands and fall in love with them that we feel confident that there is something here for everyone."
St. Modwen Homes has sold more than 50 per cent of properties at its recently launched Locking Parklands, the first homes to be built on the former RAF Locking site.
Located just a few miles from the heart of Weston-super-Mare, The Parkside, which is the first phase of Locking Parklands, is a collection of individually designed luxury apartments and houses which benefit from the traditional village design of the development.
Locking Parklands is one of the first housing developments in the UK by St. Modwen Homes and it is being delivered in partnership with the Government's Homes and Communities Agency (HCA).
For more information, visit lockingparklands.co.uk.