Taylor Wimpey supports local house hunters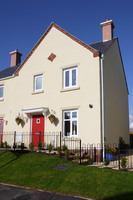 Leading homebuilder Taylor Wimpey Exeter knows the importance of being able to own your own home, which is why the company is promoting its highly acclaimed 'Discount to Open Market Housing' scheme at its beautiful Cornish sites, Acres Edge in Helston and Trevenson Meadows in Newquay, to particularly help local house hunters.
Janine Davey, regional sales and marketing director for Taylor Wimpey Exeter, explains the initiative: "While new homes in several places across the UK, such as Cornwall still represent good value for money, as an industry we have to accept that many purchasers are still finding it difficult to get a foot on the property ladder.
"It's for this reason that we are offering our Discount on Open Market Housing incentive to people who currently live in either Helston or Newquay and are looking to move home in the local vicinity, but don't believe they have the finances to do so."
If you have grown up in the area or have close connections to either town and as a household earn less than £60,000, then you can be rest assured that you are be eligible for the scheme.
The initiative is available on selected apartments and houses at the developments and allows purchasers to own a home having initially paid for a greatly reduced percentage of the value of the property.
Janine continues: "As a responsible and inclusive house builder we are keen to support all types of house hunters, including those who are struggling to purchase their own home.
"Discount on Open Market makes a real difference to buyers as it allows them to take out a mortgage which they feel comfortable with. Vetted house hunters will be eligible for a 40 per cent discount at Trevenson Meadows and 25 per cent at Acres Edge, meaning they only need to raise a mortgage and a small deposit to the value of the remaining percentage of the market price."
The initiative is currently available on selected two, three and four bedroom homes at Taylor Wimpey's Acres Edge development in Helston, meaning prices start from as little as £119,995 for a two bedroom house type and from £135,995 for a three bedroom design.
Meanwhile at Trevenson Meadows in Newquay the scheme is on offer on a collection of two bedroom apartments and a four bedroom design. Prices through the incentive start from £89,995 for an apartment, while the remaining four bedroom Snowberry townhouse is available for £151,995.
Janine concludes: "If you are keen to make 2012 the year you invest in your first home, then do get in touch with our expert sales executives at either Acres Edge or Trevenson Meadows, who will be able to demonstrate just how affordable and attractive homeownership is when you choose Taylor Wimpey."
To register your interest in the brand new homes available, visit taylorwimpey.co.uk.