A new Elan Home - just what the doctor ordered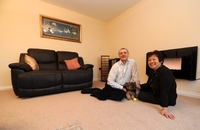 Location and build quality were key to one couple's search for a new home – and they found both at Elan's Mortimer Gardens development near Bristol.
David Carrington, a hospital consultant, and his wife Poh Choo, a staff nurse, both in their late 50's, were looking for a newer house so they could enjoy a stress-free life-style and lower energy bills. Their new four-bedroom detached Elan home at Mortimer Gardens ticked all their boxes and they were also able to speed up their move by part exchanging their existing house.
David said: "We were looking to move to a larger house and we specifically wanted a new build so we could take advantage of everything they had to offer; such as lower running costs and ease of maintenance.
"It also needed to be close to the M4, M32 and Bristol Parkway Railway station as I travel a lot. Then it was a case of finding the right style of property – and we found that at Mortimer Gardens."
The next step was straightforward for the couple as Elan agreed to take their old house in part exchange, meaning they effectively had an instant cash buyer.
"We wouldn't have made the move without part exchange", David commented. "We didn't want to reach a position where we had found the right property but then be forced to wait while we found a buyer for our own house, particularly in the current market. Part exchange made it possible to move when we wanted to."
In addition, the couple purchased their new home with carpets and kitchen appliances included, all they needed to add was their own finishing touches to make their new home their own.
David added: "Everyone at Elan was very helpful throughout the whole process. Everything was done within the timeframe we wanted."
Elan has now sold more than half the homes at Mortimer Gardens. Behind the stylish exteriors, inspired by the classic features of time-honoured Victorian architecture, lie contemporary interiors to suit the lifestyles of modern families.
Beverley Rickard, sales manager for Elan in the south, said: "Mortimer Gardens is proving to be very popular with discerning Bristol homebuyers. Attention to detail is paramount inside all our homes, with modern appliances selected for quality and visual appeal and high specification ?xtures and ?ttings in every room."
Beverley added: "As Dr Carrington found, part exchange is a hassle-free way for movers to sell their own home quickly as we simply take it off their hands and put the value towards their new home. In the current climate many purchasers are opting to part exchange rather than wait for a buyer, which could mean getting stuck in a chain. It means they can begin enjoying life in their new home sooner rather than later and they won't even have to pay estate agent's fees."
"Another advantage of buying a new home is the luxury of no onward chain so they have more control over when they want to move."
Current prices on a range of four-bedroom homes at Mortimer Gardens start from £249,950. A show home is due to open at the beginning of March. Detached homes are also available, priced from £279,995 as well as a range of two-bedroom apartments priced from £139,995.
The development is close to Bristol city centre with its blend of modern shopping and maritime history, arts and culture, but the private neighbourhood feels a world away from city life. A bustling high street will eventually run through the centre of Mortimer Gardens so residents can look forward to having a host of shops and amenities on their doorstep.

For more information visit the sales office off Long Down Avenue, visit elan-homes.co.uk.