Clocked cars are a growing threat to used buyers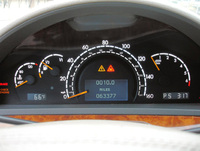 Consumers need to protect themselves from the risk of buying a clocked car, warns vehicle history expert HPI. Latest figures from HPI reveal an increase of more than 10% over the last 5 years in the number of used cars it checks recording a mileage discrepancy. According to figures from HPI's National Mileage Register (NMR), over 1 million cars it checked in 2011 had an inconsistent mileage reading, leaving buyers vulnerable to paying over the odds for a vehicle.

An HPI Check includes a mileage check as standard, offering used car buyers a safeguard against the growing danger of clocking. "It is simply too easy for sellers to hike up the value of a car by turning back the miles on the odometer, making clocking one of the biggest risks for consumers," explains Kristian Welch, Consumer Director for HPI.

"Worryingly, we are seeing a new trend whereby some owners are clocking a car regularly throughout their ownership, making it even harder for buyers to establish if a vehicle's mileage is correct. We also know there are people who are returning leased cars to the leasing company, having adjusted the vehicle's mileage so that they meet the terms of their PCP (personal contract plan/leasing) agreement, which is further adding to the problem. With 1 in 20 cars we check recording a discrepant mileage, buyers need to take steps to be sure their potential purchase really is everything it seems."

Modern digital odometers make it easier than ever for clocked vehicles to evade detection. Whilst altering a car's mileage is not illegal itself, not declaring that mileage change to a potential buyer is. Clocking a vehicle can add potentially hundreds of pounds to the perceived value of a car. The real worry is that unsuspecting buyers could be saddled with higher running costs further down the line, as the vehicle is likely to have more general wear and tear than expected, and may have missed vital servicing intervals.

An HPI Check is the best way for consumers to protect themselves from fraudsters looking to make a fast profit. Using information that dates back to 1997, HPI's National Mileage Register (NMR) contains over 135 million readings and is adopted as standard by leading motor retailers and manufacturers. This brings buyers extra assurance that a vehicle checked by HPI has not been clocked. The HPI Check also offers a £30,000 Guarantee in the event of the information it provides being inaccurate, offering added peace of mind to used car buyers.

Kristian Welch concludes, "It's alarming to think that people are exploiting new ways to reduce the mileage on a vehicle in order to put hundreds or even thousands onto the price tag. Unsuspecting buyers are being caught out every day, but they don't need to be. HPI always has the most comprehensive mileage data available, so if the seller has clocked a vehicle, the HPI Check will know."
HPI's tips on spotting a potentially clocked vehicle*
Check the service history - Check the mileages displayed in the service history and look for invoices and service stamps from a genuine dealer
Speak to the previous keeper - Contact the previous keeper to confirm the mileage of the vehicle when they sold it.
Trust your judgement - Look for any evidence that indicates clocking – anything out of keeping with the general condition of the vehicle.
Check the mileage - Clockers sometimes wind back the mileage for the first viewing and then return it to its original value once you buy. Check the mileage is the same when you pick up the vehicle.
Look for signs of wear and tear - Does the wear and tear on areas such as seats and the steering wheel match its mileage? Look out for brand new easily replaceable parts, which don't match the vehicle's displayed mileage.
Conduct an HPI Check - Don't take the risk, let HPI check its mileage database of 135 million mileages.
*Many of these signs could be innocent, so look for more than one of the above as possible evidence of clocking