Grosvenor Pulford Ready, Steady, Learn to Cook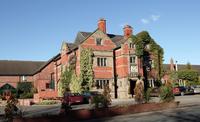 Leading Cheshire hotel The Grosvenor Pulford Hotel & Spa hosted another outstanding instalment of the popular 'Ready, Steady, Learn to Cook' event on 2nd March when guests took to their seats in the stunning Grosvenor Suite to enjoy a fun-filled and enlightening evening hosted by Executive Head Chef Leigh Myers, themed around 'Northwest finest produce'.
The use of local produce is a strong principle at the heart of the family owned and operated Nelson Hotel group, who firmly believes in supporting local producers whilst enjoying benefits such as fantastic freshness and quality, and reducing food miles; and it's a principle that clearly pays, with three of the Nelson Hotels properties proud owners of various AA awards.
In this locally themed event, guests enjoyed a sumptuous three-course meal including Potted Morecambe Bay Shrimps and Roast Loin of Cheshire Pork, accompanied by carefully chosen wines. Live cookery demonstrations from host Leigh interspersed the meal during which guests received advice on selecting local produce, plus preparation and cooking techniques. Every detail was projected around the Grosvenor Suite via large TV screens to afford everyone a fantastic view of the action. Once again, the event was supported by local suppliers including Wellocks, M&J Seafood and H R Hargreaves & Sons.
Leigh comments: "Our Ready, Steady, Learn to Cook evenings are great entertainment, and also an opportunity for people – no matter how confident they are in the kitchen – to learn some fantastic tips for creating great food at home. The quality of the ingredients is paramount and we believe strongly in sourcing fine local produce for our kitchens; to promote this to our guests and encourage them to do the same through this popular event is very worthwhile."
Ready, Steady Learn to Cook offers a great deal of fun and a fantastic night out. Each guest is able to sample various high quality beverages, learn how to cook delicious meals, eat everything they see being prepared and even receive copies of the recipes to take away and experiment with at home. It's the perfect night out for food and wine lovers, whether they like to cook or simply enjoy fine dining in beautiful surroundings. It also offers fantastic value for money with tickets costing £35-£40 per ticket.
The next Ready, Steady, Learn to Cook event will take place later this year, details to be announced.
For further information visit grosvenorpulfordhotel.co.uk.