Volvo 8x4 Tridem for Cowindale Feeds of Carmarthen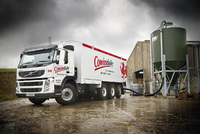 A new Volvo FM-420 8x4 Tridem has entered service with animal feeds specialist Cowindale Feeds of Carmarthen, South Wales.

The FM Tridem was supplied by Volvo dealer Mansel Davies at Llanfyrnach.

Thanks to its excellent wall-to-wall turning circle of around 12.5 metres (depending on wheelbase), Volvo's 8x4 Tridem is able to make deliveries that would defeat a six-wheeler.

With a payload that is also significantly greater than a six-wheel rigid, the 8x4 Tridem is a highly productive vehicle for applications such as farm feed deliveries that need to access tight delivery points.

Cowindale Feeds new FM Tridem was specified with Volvo's fuel efficient 13-litre engine, in this case rated at 420hp and developing 2,100 Nm of torque between 1,000 and 1400 rpm – the wide spread of torque making it a popular choice for this type of specialised four-axle rigid due to its excellent driveability. Volvo's uprated engine brake VEB+ is also fitted to this truck.

To aid its exceptional manoeuvrability and stability, the FM Tridem's lifting, steering rear axle is fitted with 385/65R22.5 tyres. The nine-tonne rated front axle also has 385/65R22.5s and the twin drive axles are fitted 315/80R22.5 tyres.

The truck's specification also includes Volvo's Day Cab, I-Shift automated transmission and Durabright aluminium wheels, which further improve the payload friendly capability of the competitive unladen weight of the Volvo FM chassis.

Bodywork was manufactured and fitted by Muldoon Transport Systems Ltd of Dungannon, Co. Tyrone.