Millgate Homes asks the question: How easy is it to downsize?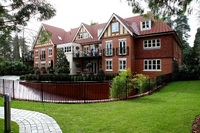 The government recently announced proposals which will encourage homeowners to downsize their home, in the hope of increasing the availability of larger properties for families. It claimed that there is a desperate need for this type of housing – and older people, with largely empty homes, are contributing to the shortage. Research, released last year, seems to support that view, with findings revealing that 25 million bedrooms in England lie unoccupied.
Nick Jackson, land and planning director at Millgate Homes, understands the predicament of the current market, but believes there to be a few key issues which are preventing homeowners from moving and house-builders from supplying appropriate properties to meet demand.
He explains: "Speaking to estate agents in the areas in which we build, it is clear that there is a strong downsizer market – so, homeowners are, in fact, willing to move into smaller properties. The problem arises when looking at how many appropriate homes there are currently available to buy.
"It's important to understand the psyche of downsizers: although they are looking to move into a smaller home, it still has to be what they would consider a spacious property – at present, there aren't enough of these."

Millgate Homes has seen a success at its apartment scheme of two- and three-bedroom homes, Brockenhurst House, in Ascot, which has been popular with the downsizer market, thanks to the generous size of the homes. The apartments have been cleverly designed to allow enough room for homeowners to bring most possessions, with open-plan living spaces and light-filled windows, helping to add to the feel of spaciousness. It's these types of developments which will encourage homeowners to take the leap and downsize.
Nick continues: "Apartment schemes are an appropriate housing solution for downsizers, but a sticking point can sometimes be securing planning approval – especially in areas where you have a lot of detached homes. People may be willing to compromise on size, but they certainly want to live in a similar desirable area to that in which they were residing before. We're definitely seeing more apartment schemes coming to the market than at the height of the recession, but there should be more, which would help to meet demand.
"In addition to this, the fact that banks are reluctant to fund apartment schemes doesn't help. They see it as a risk and tend to pigeon-hole developments for downsizers, such as Brockenhurst House, into the same bracket as those targeted at the rental market and first-time buyers, when the truth is that downsizers are providing most of the capital themselves, from the sale of their larger property, so there is more security."
Nick concludes: "If house-builders, local planning authorities and banks work together, then there's a lot which can be done to help the current shortage of homes. If planning and funding are approved, then Millgate Homes can work to create properties which downsizers want to buy. They will move out of their larger properties; this will go some way towards helping with the government's aims."
For more information on Millgate Homes or its current portfolio of developments, suitable for the downsizer market, visit millgatehomes.co.uk.