5+1 reasons to get hitched in Aruba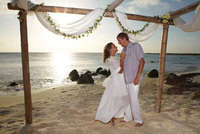 Planning on getting married abroad? Here are the top reasons to celebrate your big day on the Dutch Caribbean island of Aruba.
1. Weather you can rely on
Situated less than 20 miles off the coast of South America, Aruba lies away from the hurricane path. It is one of the most temperate islands in the Caribbean and enjoys average year-round temperatures of 28°C. As there is no rainy season, there is no chance of a downpour ruining the day so in essence no wrong time to visit - great for planning a wedding at a time that suits you.
2. White sand beaches
Aruba's seven miles of white sand, palm fringed beaches offer a little something for everyone and are the perfect backdrop for wedding snaps. The island's most famous strip, the idyllic Eagle Beach and Palm Beach, has just climbed to No2 in the annual 'Top Beach Destinations In The World' as voted by TripAdvisor users, the world's largest travel review site.
3. One celebration per day: yours!
You do not have to be a resident to get married in Aruba. Most couples choose to have the civil part at Aruba's picturesque town hall, followed by a picture perfect blessing ceremony on the beach. Unlike other popular destinations, most resorts and hotels in Aruba will only hold one ceremony per day, so weddings have a more intimate feel guaranteeing a more special day.
4. Online bridal registry - who needs a toaster?
Aruba was the first island in the Caribbean to introduce an Online Destination Bridal Registry (bridal.aruba.com), a fast, easy and free interactive way for couples to prepare for their special event and preselect their wedding gifts - which can range from hotels, water sports, car rentals and spa treatments to golf, candlelit beach dinners, champagne and flowers.
5. Accommodation to spoil yourself
Aruba's white sand is dotted with luxury four and five star hotels, with smaller independent properties next to some of the world's most well trusted hotel chains, such as Hyatt, The Westin, Radisson and Marriott. Many of the resorts and hotels have on-site wedding experts ready to guide you through your options and make your big day as stress-free as possible.
+1. Combine your wedding and honeymoon
More and more couples are opting to have their wedding and honeymoon in Aruba, combining a stunning beach wedding with the honeymoon of a lifetime. Due to the spiralling cost of weddings in the UK, this turns out to be surprisingly good value but it also allows friends and family to maximise their time on the island, attending your wedding and enjoying the following days as a holiday.
For more information on Aruba and getting married on the island please go to aruba.com.