Introducing affordable luxury on the Great Barrier Reef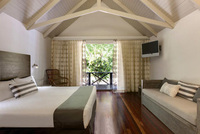 Hamilton Island on the Great Barrier Reef in Australia has opened the first phase of its newly refurbished Premium Palm Bungalows, providing a luxurious yet affordable reef retreat.
Currently undergoing a AU$4 (approx £2.7) million refurbishment, the Premium Palm Bungalows offer guests the option of a little more luxury in the Whitsundays, whilst retaining the relaxed simplicity of a 'back to nature' private retreat.
Thirty per cent of the Palm Bungalows have been refurbished and are now available to guests as 'Premium Palm Bungalows' with 60 per cent to be completed by the spring and the remainder in 2013.
The Premium Palm Bungalows entice guests with an inviting palate of neutral sandy tones and modern interiors. Bright and airy, each bungalow features a king-size bed, divan, air conditioning and an all-white bathroom with premium fittings and decor. Guests now have access to an expandable kitchenette, with microwave, bar-fridge, mini bar and tea and coffee making facilities for in-room entertaining and relaxation. The free-standing bungalows are sleek yet simple, accommodate up to three adults, or two adults and two small children making it ideal for families.
Located footsteps from Catseye Beach and the Marina, each free-standing bungalow includes its own fully furnished private balcony with a hammock surrounded by beautifully landscaped tropical gardens. Guests have access to the main resort pool overlooking the ocean, complete with a swim-up bar and complimentary use of non-motorised water sports.
The bungalows have been designed by award winning Australian interior designers, Hare + Klein, who have also created the interiors of Hamilton Island's luxurious day spa, Spa wumurdaylin.
Premium Palm Bungalows are available to book from AU$330 (approx £220) per room per night twin share. For bookings, visit hamiltonisland.com.au.