Morph returns to CBBC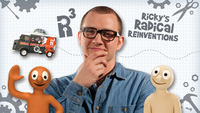 Iconic animated duo Morph and Chas are heading back to our screens for a very special one-off programme, made by Aardman for CBBC.
Ricky's Radical Reinventions is a brand new show in which animator and reinventor Ricky Martin shows CBBC viewers how to make stuff they take for granted, using everyday objects from around the home. In this programme he explores sound and shows how to make your own loudspeaker.
What Ricky doesn't know is that Morph and Chas are living in the back of his van - and just as you'd expect, the mischievous mates get up to shenanigans while Ricky is on his quest to make the biggest set of loudspeakers possible using cardboard, magnets and balloons.
With the clock ticking, kids from a primary school in Bristol help snip, stick and sort to build the speakers for the special guest singer to test out. When the mystery X-Factor finalist turns up the crowd go wild as she puts the home-made speakers to the ultimate test….but the big question is, will they work?
Damian Kavanagh, CBBC Controller says: "It's exciting to be able to introduce Morph and Chas to our audience for the very first time – and parents will no-doubt enjoy seeing them return to our screens too!
"They're not the only stars of the show though. Ricky Martin is a real talent and has an amazing ability to engage children and inspire them to get creative, and that's what CBBC is all about. Watching TV shouldn't be a passive experience for kids."
Miles Bullough, executive producer for Aardman, says: "It's so exciting for us to team up Morph and Chas, Aardman's first and original creations by Peter Lord and David Sproxton, with a brand new young and exciting talent like Ricky Martin, who Aardman took on as a graduate from Bristol's UWE."
Ricky's Radical Reinventions is made by Aardman for CBBC. Executive producer for CBBC is Kez Margrie and executive producer for Aardman is Miles Bullough.
The programme will air on CBBC on Monday 26 March at 6.15pm.