Redow acquires land in Monkton Heathfield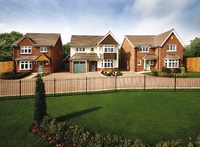 A 187 acre mixed use development site in Taunton has been purchased by Redrow South West. The site comes with outline planning permission for up to 900 new homes and will be developed in partnership with Persimmon. The development will also include community facilities including a local centre with 600 sq m retail space, employment land, a primary school, public playing pitches, green spaces and play areas.
The site is situated just outside the picturesque village of Monkton Heathfield in the stunning Somerset countryside. Its location provides easy access to Taunton Town Centre and the M5 motorway, which ensures excellent commuter links across the county and the South West.
The first phase of building will consist of 120 new Redrow homes. Redrow is planning to build 360 desirable new homes in total, a mix of private and affordable dwellings, with a wide selection of 2, 3 and 4 bedrooms. The mix of New Heritage Collection homes planned for this development is sure to attract couples and families from across the region. The development will provide another example of quality and workmanship synonymous with Redrow.
Lee Hawker, land director for Redrow (South West), said: "We are delighted to have secured this key strategic site in Taunton, it is a beautiful part of the country and our priority is to deliver a high quality development. This development will build on our successful Bagley Green development in neighboring Wellington, which has proved very popular with local residents."
The land is located on Bridgwater Road, approximately 3 miles North-East of Taunton town centre on the A38.