Stewart Lee's Comedy Vehicle commissioned for two more series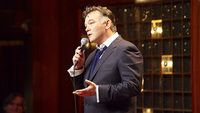 Janice Hadlow, Controller BBC Two and Cheryl Taylor, Controller Comedy Commissioning, have announce they have commissioned BBC In-house comedy to produce a further two series of the British Comedy Award-winning Stewart Lee's Comedy Vehicle for BBC Two, to air in 2014 and 2015.
Since the first series aired in 2009, the programme has built up a fiercely loyal audience, and Stewart will once again be taking the opportunity to ruffle a few feathers.
Produced by Richard Webb, Stewart Lee's Comedy Vehicle is a mixture of stand-up and sketches, performed by Stewart and special guest performers. Each series will comprise six episodes.
Cheryl Taylor said: "Stewart has established himself as one of the most respected and revered comedians on the circuit and we couldn't be more thrilled to confirm that he will be driving two more series of his Comedy Vehicle around BBC Two."
Mark Freeland, Head of In-house Comedy, said: "How brilliant that BBC Two has given Stewart Lee two more series. It's reward for a unique, perfectionist, hardworking, bit-scary comedy master and the wonderful team behind him. I'm standing by with my compliance forms."
Stewart Lee said: "I am delighted to be returning to BBC Two, TV's historic home of smart-ass comedy, for two more series, with the same multi-gong-grabbing team as before. I can't really believe this opportunity has been presented to me, and I certainly wasn't expecting it.
"I hope to repay this unprecedented act of blind faith by donning my too-tight jacket to hone another six hours of densely irritating stand-up over the next four years, spliced with aggressive Armando grillings and obtuse filmic codas.
"It will be amazing to be able to move forward and experiment in this unprecedentedly secure position. Thanks to everyone out there who watched the series, wrote about them, or lobbied for their return. I will make you proud. Peace! I'm outta here! You shoulda killed me last year!"
Stewart Lee's Comedy Vehicle is produced by BBC In-house Comedy. The executive producer is Mark Freeland, the producer is Richard Webb and the director is Tim Kirkby.