Fashion and music show to celebrate the alternative scene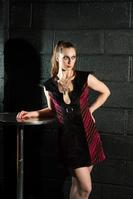 A fashion show for those designed to be different is aiming to bring the wow factor to Birmingham. Taking place from 7.30pm on Friday 30 March at The Asylum Venue, the Alter Me Up show will showcase the work of ten new and established designers from across the Midlands.

Organised jointly by Enviious Events and Erf Music, the show will also feature dramatic sketches, dance and entertainment by Pyro Productionz, and four live bands which will play after the show.

The performing bands on the night include headliners Gehtika along with This Elegant Chaos, Silent Jack and Left For Red.

Guests will also have the opportunity to purchase a range of unique clothing and jewellery from a selection of designer stalls that will be open during the event.

Jennifer Sutton, manager of Enviious Events said: "This show will bring together some of the most exciting local fashion designers in an event that celebrates the diversity of the alternative scene. As it's such a broad genre, we've been able to secure some amazing designers, each with their own individual style. They've created some stunning work for the show including include Burlesque, latex and steampunk styles; historically inspired garments; alternative swimwear, jewellery and even a batman themed collection.

"Everyone involved - from designers, models, make-up artists, musicians and photographers - has worked really hard in preparation to make this show a success and we can promise an evening packed full of drama, creativity and music."

Doors open at 7.30. Tickets purchased in advance are priced £8, or cost £10 on the door (£13 after 9.30) and can be purchased at altermeuprunway.eventbrite.co.uk.