New Hannah range by organic clothing manufacturer Beaumont Organic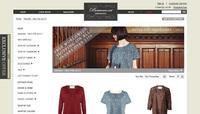 Autumn-winter 2013 sees the launch of the brand new range 'HANNAH' by luxury organic clothing manufacturer Beaumont Organic.
Now arriving at Beaumontorganic.com, the Hannah range is a sophisticated & exclusive addition that perfectly complements the company's existing highly-popular collections.
Using only the finest textiles, the new range features contemporary cuts and effortlessly cool styles, made with precision and love, according to its designer Hannah Beaumont-Laurencia.
Trade journal Womenswear Buyer was excited by the collection, noting that it had been devised in response to demands from customers who like the aesthetic of existing Beaumont ranges, but wanted a smarter, more chic collection.
It noted that Hannah was designed to be worn throughout the day and into the evening, with the collection including a burnt orange jacket, printed silk shift dresses, smart mulberry knits, and midnight blue box-cut T-shirts.
Finishing touches, which include contrast trims, leather piping and ribbing, along with a range of earthy, autumnal colours and loose, oversized silhouettes, were also picked out as highlights by the Womenswear Buyer reviewers.
The 'Hannah' range carries the name of the company's chief designer, which, she says, shows that the company has the ultimate confidence that it will prove highly popular with existing customers, but also has the potential to attract many new converts to the brand.
"The new sister premium collection of luxurious ethical classics features contemporary cuts and effortlessly cool styles," says Hannah.
A new, dedicated section of the company's blog, entitled 'Hannah's Picks For The Season' has been launched to showcase a range of pieces from the collection.
Shipping of all items in the Beaumont Organic Hannah range, as well as other collections, is available worldwide, with delivery including free gift wrapping, using 100% recycled materials.
Check out the Hannah by Beaumont Organic collection at beaumontorganic.com.
About Beaumont Organic: A leading online retailer of organic and ethical luxury, Beaumont Organic was established in 2008, with the aim of offering luxury garments and household effects at affordable prices.
Beaumont Organic offers you pieces that are timeless wardrobe classics, from organic tops and dresses through to knitwear, which are designed to stand the test of time.
Its entire clothing range is sourced from eco-friendly materials and made in the company's own factory in the north of Portugal near Porto. This allows Beaumont Organic to support a small family-run organisation, so ensuring that its fair trade clothing is manufactured under ethical working conditions, with fair wages and working hours, eliminating any possibility of worker exploitation.