Forge 'Atmo' and 'Recirc' blow off valves for Nissan Juke turbo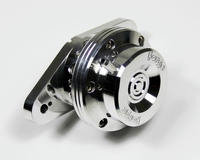 The prolific design department at Forge Motorsport has evidently been doing its bit for bespoke British engineering by creating this stunning looking pair of enhancements for all versions of the Nissan Juke fitted with the punchy 1.6 Turbo engine. Two new versions of these blow-off valves are available; either 'vent-to-atmosphere' or recirculation types to suit the tuner or driver's requirements.
As a car that promises great performance, allied to sensible fuel and insurance costs, the 1.6 displacement Renault lump is rife for a few tweaks, offering a perfect balance of economy and ability. The new Forge valves offer a considerable improvement over the OEM design, being fully engineered piston type units.
The design and materials used in the construction of these parts not only allow for the valve to be tuned when boost pressures have been increased, but even when fitted to a standard car, will provide a fast acting and responsive valve that gives reliability over failures often associated with the original manufacturer's design.
Fitting either of the Forge valves improves throttle response by reducing lag. It achieves this by helping the turbocharger maintain its rotational momentum in between gear changes, ready for a punchy response when you floor the loud pedal.
The kit includes all necessary parts needed for an easy fitment, and bolts directly to the OEM flange mount. The kit also comes with all the vacuum hoses required, where appropriate.
Despite being precision fabricated here in the UK and entirely hand-finished, both valves are priced at just £148.18+ VAT. Either makes the perfect first modification for any cherished Juke and will make any example drive more responsively.
For more information, visit forgemotorsport.co.uk.