Forge silicone breather hose kit for Seat Ibiza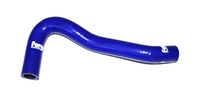 The silicone hose division of Forge Motorsport is never one to rest on its laurels when it comes to constantly developing new lines for Volkswagen Group cars. This time, their talented engineers have created another superbly engineered solution for the perennially tuned 1.8T lump from the Seat Ibiza. (Mk3 variant)
Designed here in the UK and precisely manufactured to be a direct replacement for the OEM part, this fabric reinforced hose is able to withstand significantly higher pressures and temperatures, making it perfect for any car that spends time on track, or that gets pushed hard on the road. Available in Red, Blue or Black, it also makes the perfect finishing touch for any concours vehicle, too.
Priced at £34.80 including VAT, it makes a great functional and aesthetic improvement to any cherished Ibiza as well as 'future-proofing' the engine bay against the fatigue usually associated with natural rubber hoses.
For more information, visit forgemotorsport.co.uk.