Get your hands on a money saving home devise at the Gadget Show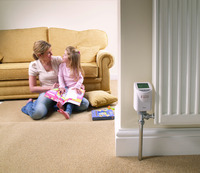 The Terrier i-temp, an innovative programmable radiator control (PRC), will once again be exhibited at the hugely popular Gadget Show 11-15th April at the NEC, stand C381. This home gadget that can save consumers up to 30% off their heating costs is fast becoming a must have product! Pegler Yorkshire, the company behind the Terrier i-temp will be offering visitors a chance to see just how the PRC works and a chance to win their heating bills covered for the rest of 2012*.
The Terrier i-temp PRC works by controlling time as well as temperature, which means the radiator is only on at times actually required by the home owner, resulting in less energy used and reduced bills.
The PRC is an intelligent product that is simply fitted to individual radiators, and easily replaces manual or thermostatic radiator valves, without the need to upgrade existing boiler systems. It can be set to allow the radiator to come on/off at different times depending on the resident's requirements. For example when heat is required in certain rooms but not in others, the heating will naturally be turned on but those radiators fitted with a Terrier i-temp will automatically be turned off, without affecting the heat from the radiators that are required. In general the Terrier i-temp is a smart devise that can keep in tune with residents own routines.
The consumer friendly product has been developed with two programming options; it offers pre-programmes for bedroom and sitting room or a customisation program, either way the PRC can be installed or programmed within minutes. There are also many additional features for example hidden temperature limit for future potential energy saving, window opening detection, set back and comfort settings and child lock features.
The company has also launched a number of accessories to accompany the i-temp such as; a remote control to change the temperature of the radiator from the comfort of your armchair, USB devise and software to allow easy setting of a heating profile for each of the Terrier i-temps from a PC and a window contact which helps i-temp save energy by sending a radio signal when the window has been opened.
There are three special offers for visitors wanting to purchase the Terrier i-temp at the Gadget show;
1. Terrier i-temp priced for only £18.99 a saving of £11.99 off the RRP (£29.99)
2. Home Pack – includes 3 Terrier i-temps, window sensor, remote control £75.00 (RRP £129.00)
3. Accessories Deals – Window sensor £14 (RRP £19.99), Remote Control £13 (RRP £19.99), USB Devise £20 (RRP £29.99).
Plus visitors will have a chance to win a Home Pack and £500 towards their heating costs, this great prize can mean the winners heating bills could be covered for the rest of the year! All you need to do is visit the stand and leave your details.
The terrier i-temp is the first of its kind to be recognised as an Energy Saving Trust recommended product. For further information about the terrier i-temp, how it works, how to install, how to save money and where to buy visit, saveonheatingbills.co.uk.
For further information about any of Pegler Yorkshire's products, visit pegleryorkshire.co.uk.
*The prize consists of a Home Pack, (3 x Terrier i-temps [either i30 or i35], 1 x window sensor, 1 x remote control) and £500 cash. The prize offered is subject to terms and conditions.