Harry Potter still as popular as ever with South West fans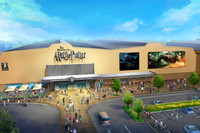 Harry Potter fans across the South West have been snapping up tickets to get a behind-the-scenes tour at Warner Bros studios where the eight blockbusting British films were made.
The 'Making of Harry Potter Tour' opens its doors on 31 March and according to travel company Bakers Dolphin, there has been unprecedented interest from the region in visiting the attraction.
The demand has been so high that the company have even added an extra date to the one-day or two-day tours they are offering.
The Weston-super-Mare based coach operator is running trips from pick-up points around the West Country to the attraction which gives visitors access to the huge array of beautiful sets, costumes and props made famous by the series.
Bakers Dolphin Sales and Marketing Director Amanda Harrington said: "This tour has been one of our most popular ever, with people all over the South West snapping up tickets, leading us to add an extra date. Fans can visit iconic locations from the films and learn how JK Rowling's fantasy world became reality. Harry Potter captured imaginations worldwide so it is no wonder it has been so eagerly received.
"Being the first studio in the UK to open its doors like this and the first tour to focus on a film franchise alone makes it a really exciting attraction. The scale of the studio is phenomenal and the detail that goes into everything is breathtaking.
"Lots of people have been buying tickets as presents and it really does make the perfect gift. It's a lovely day out for the whole family and I guarantee you will get caught up in Harry magic. We have already sold the majority of our tickets so I would urge anyone interested to get in touch as soon as possible."
The tour reveals some closely guarded secrets that die-hard Harry Potter fans will be astounded to learn, including facts about the special effects and breathtaking animatronics that made these films so hugely popular all over the world.
Set in a 150,000sq ft studio, the tour lasts approximately three-hours, with only part of it being guided, giving visitors plenty of time and flexibility to enjoy the attraction at leisure. Most of the attraction is interactive and fully hands-on meaning fans can get up-close and personal to the familiar objects made famous on screen.
Bakers Dolphin is offering day trips to the tour on 28 May, 4 July, 18 September and 17 October with tickets costing £52.50 for adults and £42.50 for children with prices including travel and entrance.
Bakers Dolphin is also offering overnight trips to the tour on 21 April, 18 August and 29 September with tickets costing £125 for adults which includes bed and breakfast, travel and entrance. There are also fantastic reductions for children when sharing with two adults, with tickets costing just £59.
Pick-up points include those in Weston-super-Mare, Clevedon, Bridgwater, Bath, Yeovil, Frome, Chippenham, several stops in Gloucester, several stops in Bristol City Centre and more.
For more information, visit bakersdolphin.com.