New attractions Southern California's top theme parks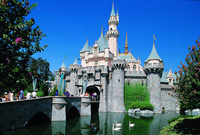 Southern California's top theme parks are busy putting the finishing touches on new rides, shows and mega-attractions that promise to make spring and summer 2012 more exciting than ever.
And making any Golden State getaway more enjoyable — not to mention affordable — is the Southern California CityPASS, which shaves 26 percent off the cost of visiting Disneyland and Disney California Adventure Park (each Southern California CityPASS includes a 3-Day Disneyland Resort Park Hopper ticket), as well as one-day admissions to Universal Studios Hollywood and SeaWorld San Diego.
A 2012 adult Southern California CityPASS sells for $279 (a value of $376.90), shaving 26 percent off combined admission to the participating attractions. 2012 children's passes (ages 3-9) retail for $239 (a value of $344.90)*.
*Through an exclusive offer on CityPASS.com, travelers can add a discounted ticket to the San Diego Zoo or San Diego Zoo Safari Park to their Southern California CityPASS — still saving 26 percent. (Southern California CityPASS cost with optional zoo ticket: $311, adults; $263, children ages 3-9.)
The Disneyland Resort
In one of the biggest theme park expansion projects ever undertaken, the Disneyland Resort is pumping $1.4 billion into the transformation and expansion of Disney California Adventure Park. The project, slated for completion in summer 2012, will add an entirely new land — Cars Land. This 12-acre section of the park, based on the movie Cars, features three new attractions: Luigi's Flying Tires, a spinning, bumper car-style ride; Mater's Junkyard Jamboree; and the thrilling Radiator Springs Racers, a ride that includes lots of fun encounters with many of the Cars' characters and ends with an electrifying race to the finish line.
These new additions will join several new attractions that came online last summer. On June 3, 2011, Disney unveiled both The Little Mermaid — Ariel's Undersea Adventure (a fresh addition to the Disney California Adventure Park) and the newly revamped, 3-D-enhanced Star Tours — The Adventures Continue ride in Disneyland. Once aboard Star Tours, guests climb into a Starspeeder 3000 piloted by C-3PO. The gold-plated droid whisks his passengers away on an adventure whose time line takes place between the first and second Star Wars trilogies.
With so much to do and see in both parks, the 3-Day Park Hopper Ticket is a must-have vacation accessory, allowing visitors to hop back and forth between Disneyland Park and Disney California Adventure Park on all three days.
Universal Studios Hollywood
In the Transformers movies, the Earth's population finds itself caught in the middle of an intergalactic power struggle between two groups of alien robots — the heroic Autobots and the evil Decepticons, both of which have the power to physically convert from such common mechanical devices as cars, trucks and planes into robotic warriors.
Come May 2012, Universal Studios Hollywood will unveil a thrilling conversion of its own: the transformation of this riveting film franchise into a white-knuckle motion-thrill ride that will drop fans smack-dab into the middle of the action.
Transformers: The Ride — 3D will feature seamless integration of CGI and robotics, as well as one of the most elaborate roaming flight simulator ride systems ever designed. The ambitious mega-attraction tells an original story, developed in collaboration with Michael Bay, the director of all three Transformers movies. The ride's pioneering, photo-realistic, 3-D effects are being created by Industrial Light & Magic, the Oscar-winning special-effects force behind such acclaimed films as Avatar, Iron Man and Star Wars.
That's an impressive pedigree, but Universal hasn't stopped there. Borrowing a page from Harry Potter and the Forbidden Journey, the signature attraction at Universal Orlando Resort's Wizarding World of Harry Potter, the ride's designers have stretched the guest experience far beyond the actual ride by incorporating 20-30 minutes of dynamic storytelling into the queuing line.
SeaWorld San Diego
At SeaWorld San Diego, CityPASS users present their passes at the turnstile, bypassing the main-entrance ticket line. This faster entry leaves Southern California CityPASS travelers with more time to enjoy SeaWorld's shows, including One Ocean, which debuted Memorial Day weekend 2011. This new killer whale show features remarkable whale behaviors, including high-energy leaps and multiple whales performing simultaneously. Giant fountains, lights and a rousing music score add to the program's flair.
And opening May 26, 2012, is Manta, a launch coaster that seamlessly transitions riders from the awe of watching manta rays in underwater flight into the sensation of actually being one. Shaped like a giant manta ray, this exhilarating coaster includes such elements as a 100,000-gallon aquarium and an outdoor ray pool.
Southern California CityPASS can be purchased online at CityPASS.com or at any of the CityPASS attractions. It is valid for 14 consecutive days, beginning with the first day of use.
For 15 years, CityPASS has been the premier product for travelers who want to visit a destination's top attractions while enjoying significant savings of up to 50 percent. CityPASS, which has a 99 percent customer approval rating, contains prepaid admission to the most popular attractions in 11 North American destinations: New York City, Atlanta, Boston, Chicago, Hollywood, Houston, Philadelphia, San Francisco, Seattle, Toronto and Southern California. For more information, visit CityPASS.com.