New Lake District activity centre proves a huge success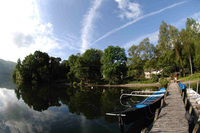 Y:Adventure, the Lake District's latest activity destination which opened on 31st March, has proved to be a huge success, with all activities fully booked over the course of the first weekend and forward bookings looking very promising.
Running until 15th April, Y:Adventure is based at the YMCA National Centre, Lakeside, on the shores of Windermere in the Lake District. This is the first time the centre has opened its doors to the public, offering a series of exciting activities for the whole family to enjoy, and further reinforcing the region's positioning as the Adventure Capital of the UK.
The Activities
The many acres of woodland nestled on the shores of England's largest lake provide the perfect venue for families to explore, as well as giving them an opportunity to try their hand at a range of exciting activities.
Activities include amazing ride and slide adventure including King Swing and Aerial Zip Wire; fun on the water with canoeing and rafting; climbing and abseiling are available for the daredevils amongst you; or try your hand at archery or give your survival skills a go.
All activities are supervised by our team of expert instructors and safety equipment is available, sized from age 8 upwards. For the youngsters, there are over 90 acres of woodland and a mile of Windermere shoreline to explore with Mum or Dad, as well as an exciting treasure hunt.
The centre provides free parking and an on-site coffee bar offering hot and cold drinks, as well as a range of snacks and souvenirs. Families are welcome to bring picnics and make the most of the stunning location and its beautiful surroundings.
Julian Cooper, Senior Business Development Executive at the centre, explains; "Y:Adventure is a great opportunity for families to try a range of activities together, activities that many won't have tried before. Obviously we're thrilled with the success of the first weekend and we're confident that it will continue to prove popular for local residents and holiday makers alike, and look forward to welcoming them to our wonderful location."
Booking the activities
A daily schedule of what's on is available at yadventure.co.uk. Simply check the times and availability of the activities you would like to try and book online. Alternatively, families can simply turn up for the day, book the activities at Reception, and then spend the day at the centre, making the most of the location.