TMZ Hollywood Tour - Secrets and Celebrity Hot Spots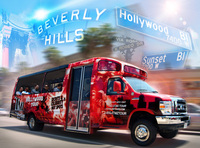 Due to overwhelming popularity, Starline Tours is rolling out more buses for the "TMZ Hollywood Tour - Secrets and Celebrity Hot Spots," to keep up with visitor demand for this unique tour that highlights celebrity haunts and the stories behind them in and around Hollywood. This year, the TMZ Tour will be offering up to 16 tours per day in high season —quadruple last year's schedule— with some tours departing at 8 p.m. on Friday and Saturday nights to capture the nightlife scene.
"The popularity of this tour - which is really a "show on wheels" - indicates our visitors' insatiable appetite for all things celebrity, as well as the huge audience of TMZ," says Philip Ferentinos, Director of Starline Tours.
Over the past year the TMZ Tour has been showing Hollywood secrets and hot spots like no one has ever seen before. The stars stop and interact with passengers; they pose for photos and at times board the bus to the amazement and joy of tour guests. Recent celebrity experiences include David Spade, Cee-Lo Green and countless others. Sometimes even celebrity dogs get in the picture, like Jiggy, the dog of Lisa Vanderpump from the "Real Housewives of Beverly Hills" outside her restaurant, Villa Blanca, in Beverly Hills.
"When superstars like Shaquille O'Neal and Diddy say hello to our guests, and the TMZ guide gets it on video for the TMZ website, it makes our visitors to LA feel like celebrities, too", says Vahid Sapir, owner of Starline Tours. (View friendly Shaquille posing for photos at tinyurl.com/TMZstars )
TMZ and Starline Tours created the TMZ Hollywood Tour - Secrets and Celebrity Hot Spots in May 2011 on a special custom-designed bus that shares celebrity secrets TMZ-style. This one-of-a-kind journey offers passengers shocking and never before seen video from the TMZ library that brings the Thirty Mile Zone to life while visiting real celebrity spots that have appeared on the TMZ show.
Tickets are from $49 for adults, $39 for youth and hotel pickup from 250 area hotels is available for an additional charge. Visit starlinetours.com or tmztour.com to reserve and purchase online and view recent celebrity sightings on the TMZ Hollywood Tour.