Create a baby hot hatch with the Superchips ECU remap for Polo GTI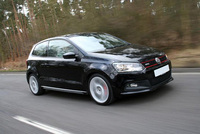 Superchips Ltd has been the official Volkswagen Racing UK Tuning Partner for over ten years and is therefore pleased to announce a performance boosting ECU remap for the latest (2010 onwards) sporty model of the Volkswagen Polo GTI - the 1.4 TSI twincharge.

As standard, the Polo GTI offers a great combination of light weight, small size and an economical, 1.4-litre, direct injection, petrol turbo / supercharged twincharge engine, that packs a 180PS (178bhp) punch, making it a pocket rocket very much in the tradition of the iconic original Mk1 Golf GTI.

But, as with the classic Golf, the Volkswagen Polo GTI 180PS 1.4 TSI twincharge responds well to careful tuning, particularly in the hands of experienced vehicle performance specialist Superchips.

Which is why the Buckingham based electronics experts are pleased to release a ECU remap for the Polo GTI which picks up power from just 2500 rpm, culminating in an impressive 27bhp maximum increase at just 5885 rpm.

Similarly, the Superchips ECU remapped Volkswagen Polo GTI 1.4 TSI twincharge produces a healthy torque boost from 2400 rpm upwards, offering a maximum gain of 35Nm at 4315 rpm.

On the road, the Superchips remapped VW Polo GTI 1.4 TSI 'twincharge' is considerably livelier than the standard model, being much more responsive to the throttle and much keener to rev. Combined with a strong mid-range pull thanks to the extra torque on tap, the Superchip equipped Polo GTI 'twincharge' is very much a baby hot hatch, capable of outshining much larger engined machinery.

The Superchips Polo GTI ECU upgrade requires installation at one of approximately 80 Superchips performance centres and is covered by a full Customer Service Guarantee and an industry-leading 12 month / 30,000 supplementary full vehicle warranty.*

Priced at £455.00 inclusive of fitting and VAT @ 20%, the Superchips ECU remap for the Volkswagen Polo GTI 1.4 TSI twincharge 180PS is on sale now.

Superchips – don't compromise, optimise.
For more information, visit superchips.co.uk.

*Terms and conditions apply, see website for details.