Virgin Atlantic flying high with Citroen Commercial Vehicles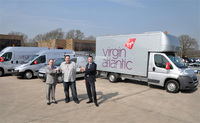 Citroen's unique range of LCVs is enabling Virgin Atlantic to undertake a major replacement of its diverse fleet. The company has placed an order for 45 Euro 5 Citroen LCVs, including 22 Berlingo five-seat Crew Vans, Dispatch vans, Relay Specialist Dropsides and a Relay Specialist Luton van. In total, Virgin Atlantic will have ordered over 100 vehicles once the complete LCV fleet replacement programme has been finalised.

The five-seat Berlingo Crew Vans will be used by Virgin Atlantic's aircraft engineers as they keep the long-haul aircraft in operational condition. The Dispatch vans are being used for longer distance travel between airports, both in the UK and mainland Europe, to collect and deliver time-critical aircraft parts and equipment.

Most of the Relay Specialist Dropsides will used by the stores teams to carry items like aircraft wheels and tyres. The Relay Specialist Luton van, resplendent in Virgin Atlantic's distinctive livery, will be based at Heathrow. It will be used by the facilities maintenance crew to move anything from paint to furniture between airports and other company facilities.

Virgin Atlantic has a target to reduce CO2 emission per passenger mile by 30% between 2007 and 2020. Not surprisingly Virgin Atlantic's Logistics Manager, Matt P. Neville, was attracted by Citroen's low emission LCVs, as well as the breadth of the range and the vehicles' significant financial benefits. "When it comes to the combination of low emissions and low whole-life costs you can't beat Citroen," he says.

The introduction of the cleaner and more fuel efficient Euro 5 engines in the Citroen LCVs has helped Mr. Neville win Virgin Atlantic's Hero Award for sustainability.

The mileages of the vehicles vary significantly. Those remaining within an airport clock up just 5,000 miles per year. At the other end of the spectrum, some take it in turns to cover a 350 mile route seven days per week.

"Because our vehicle usage varies so greatly we have moved away from leasing to direct purchase as it enables us to replace the vans as and when needed, rather than having to stick to a particular timetable," says Mr. Neville.