New luxury sailing experience comes to South Australia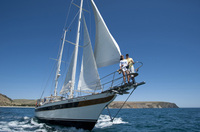 Kangaroo Island Sailing, South Australia's newest luxury experience, comes courtesy of Lady Eugenie, a magnificent 21-metre classic ketch rigged yacht boasting four double-size, air-conditioned state rooms each with private ensuites.
At the helm are Renee and Ashley Newman, marine biologists, dive masters and sailing instructors, who together clocked up 20,000 nautical miles before embarking on this new venture offering luxurious sailing trips along the Fleurieu Peninsula and Kangaroo Island coast.
Based at St Vincent Marina, Wirrina Cove, on the Fleurieu Peninsula, Lady Eugenie provides a number of options including:
scenic day sails along the coastline
romantic twilight excursions
all-inclusive three-day trips to Kangaroo Island
corporate and private charters for up to 12 passengers.
Guests can choose to take the helm, hoist the sails and generally get involved, or, alternatively they can sit back, relax and enjoy the sunshine and the views with champagne in hand as the crew transports them to secret coves and waters teeming with dolphins and other wildlife.
On board Lady Eugenie chef Simon Burr bases his cuisine on regional produce managing to concoct an array of delicious delicacies from within a bijou galley kitchen prominently featuring South Australia's finest shellfish and seafood.
Prices for a five-star experience with Kangaroo Island Sailing range from:
AUD$99 per person for a two-hour twilight cruise, including antipasti and cheese platters and a complimentary drink To:
AUD$2,500 per person for a three-day all-inclusive trip to Kangaroo Island
This is based on a minimum of two and a maximum of eight passengers.
Three-day, all inclusive trip to Kangaroo Island's highlights include:
Sailing along the Fleurieu Peninsula famed for its beautiful cliffs
Sampling South Australian wines and beers from a selection of local breweries and wineries
Close encounters with aquatic wildlife such as dolphins, seals and whales at migration time
Walking on pristine beaches
Anchoring in sheltered bays and coves
A full day land based tour with award winning "Exceptional Kangaroo Island"
For more information, visit kangarooislandsailing.com.au.