The ice man cometh with Icely Done cocktail sticks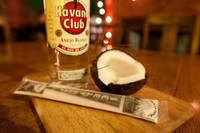 Icely Done launch six perfectly blended drinks in the form of nostalgic frozen cocktail sticks for home delivery this summer.
Each Icely Done cocktail stick is expertly blended using quality branded spirits and sustainably sourced ingredients to create six tantalising and exotic flavours to inject magic into any social occasion, party, festival or event.
Choose from:
Finlandia grapefruit vodka & Pomegranate
Absolut lemon vodka & Raspberry
Havana Club rum & Coconut
Havana Club 3yr rum & Mango
Campari & Blood Orange
Beefeater gin & Lemon
Created by Lefti Christodoulou, internationally renowned bartender and drinks industry professional, Icely Done cocktail sticks are inspired by a Brazilian fresh fruit product sold as a street drink to quench thirsts in hot climates.
"Icely Done cocktail sticks are a stylish, nostalgic and affordable way to instantly serve up an ice cold cocktail for your guests. I've mixed each flavour to impart a genuine cocktail experience of superior quality and taste while also being refreshing, mouth-watering and moreish. We freeze our cocktail sticks as soon as we have created the blend so they are free of additives and preservatives and taste just like a good cocktail or blended fresh fruit ice cold shot," says Lefti.
Prices start from just £1.50 per cocktail stick based on a minimum order of 20 and are inclusive of VAT. Delivery within the M25 is free with charges applicable outside of the Greater London area.
For more information, visit icelydone.com.