Going beyond the call of beauty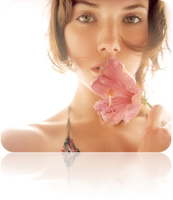 Beyond Organic Skincare was set up to do exactly what it says on the tin, go beyond simply providing organic beauty products. They felt that whilst there was a growing number of organic beauty brands on the market there was a lack of products that went that extra mile; that were organic, but also paid attention to the finer details.
Whilst producing products that help protect our planet is central to Beyond Organic's beliefs, they don't want people to have to settle for inferior products at a higher price just to have the organic tag. They aim to provide highly effective products that really make a difference to the health of your skin, that protect it from harmful chemicals and the elements, whilst giving it the love and attention it deserves through gorgeous high quality skincare.
With their latest new product launches they have certainly lived up to their name and ethos…
Beyond Organic's Daily SPF 30 Protection Cream and Tinted SPF 30 Protection Cream definitely don't scrimp on the quality of their organic ingredients with Organic Macadamia Oil, Shea Butter, Rosehip Oil and Beeswax being listed alongside other equally effective natural ingredients. There's also zinc oxide in both products, which acts as a natural mineral sun filter, and the creams are jam packed with anti-oxidants, such as retinol, to help prevent premature aging, minimise wrinkles and reduce scar tissue. What's more they have been specially formulated so they don't whiten the skin or clog pores and the tinted version helps evens out skin tone and gives a light sun-kissed coverage. Perhaps most importantly, the products fulfil their promise of going that extra mile, and smell and feel gorgeous on your skin, coming in high quality packaging that wouldn't look out of place in the most exclusive of spas, but without the celebrity price tag.
In their 'Lite & Brite Cream', Beyond Organic have a first in the skincare market with a 100% organic and natural skin lightener. Like the Skin Protection Creams it's jammed with exciting ingredients like Liquorice Root Extract, Willow Bark and Essential Oils. The fancy ingredients aren't just there for show however and the skin lightening properties of the product have been proven in biological tests, which show that after daily use of the cream for just 28 days there are measurable results, which increase further up to 56 days. The cream gradually fades skin tone, hyperpigmentation, freckles, melasma and age spots and works by decreasing the production of tyrosinase in the skin, the enzyme responsible for pigmentation.
So if you thought organic skincare was just there to make you feel good about doing your bit for the planet, think again as Beyond Organic Skincare proves otherwise. For further details and information, visit beyondorganicskincare.com.