5 innovative skincare ingredients for 2021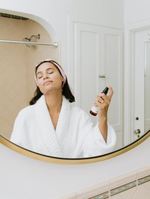 COVID-19 has been hard on many industries, but not skincare. This may not come as much of a surprise with so many people having extra time on their hands. But one of the (many) downsides to the pandemic is the rise in skin problems, including the dreaded 'maskne.' Our skin is also taking a beating with the constant washing and sanitising. Anxiety and stress-eating combined with the impact of physical and psychological isolation have also taken their toll on our largest organ, the skin. However, it's not all bad news. Read on to learn about 5 innovative skincare ingredients that will help get your skin back on track for 2021.
1. Pearl Powder
Add cold winter weather to extended periods of stress and the results are not good for our skin. Many of us are searching for ways to restore a healthful glow. The widest range of pearls have been used to enhance beauty for thousands of years. Pearl powder is famous for its ability to reduce redness, tighten and brighten, and even out skin tone. If you're looking for gifts for grandma, pearl powder is well-known for its ability to increase cell renewal, and it can even be taken internally to relieve headaches. To heighten the pearly glow of your skin even more, pick up a beauty-boosting strand of pearls from The Pearl Source.
2. Probiotics
When people hear the word 'bacteria,' they almost instantly think of germs, but there are a lot of good bacteria out there too, including probiotics. You probably already know that a healthy microbiome in your tummy is essential for good health and a strong immune system. The same is true for your skin. It may sound a bit odd to coat your face with living organisms but probiotic skincare is trending strong for 2021. Balancing your skin's pH levels can reduce acne breakouts, eczema, dry skin and signs of aging, and even lower your risk of skin cancer.
3. Cica
Inflammation is one of those buzz words you see everywhere. But a newer term for 2021 is 'inflammaging', a confluence of 'inflammation' and 'aging' which accurately describes the low-grade inflammatory response our skin is having due to prolonged anxiety and a less-than-ideal diet, amongst other factors. These stressors break down collagen and rob our skin of nutrients, causing it to age more rapidly. The results show up in many different ways. Maskne is one, and so are rosacea, psoriasis, cold sores, hives and other types of rashes. Hence the increase in demand for skin-calming products like cica. Cica was already well-known for its ability to reduce the appearance of scars, and it is ideal to reduce irritation in all types of sensitive skin.
Hyaluronic Acid
Ultra-hydrating hyaluronic acid helps strengthen your skin, your first line of defence against infection. Creams that contain hyaluronic acid, as well as things like ceramides and glycerine create a physical barrier which reduces flareups. Products made with hyaluronic acid have been shown to reduce irritation caused by PPE, although be warned: if the cream is too thick, it can lead to breakouts. Look for fragrance-free versions to help minimise the risk of irritants.
Squalane
Regular handwashing is a must these days, but it's wreaking havoc on our digits. Thus the need for nourishing, moisturising options such as squalane oil. Our body actually makes squalene (squalane is a shelf-stable version of the natural compound), but it can't keep up with the current intensive soaping and sanitising routines. Squalane moisturises, protects and smoothes without blocking pores or feeling greasy or heavy.