Organic Holidays showcases gypsy, glamps and eaves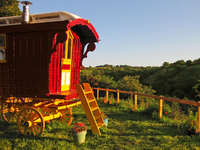 A gypsy caravan, enticing ways to glamp and holiday properties with extraordinary eaves are just a small part of the Pandora's box of 2012 organic holidaying options showcased at vacation and short break web portal, Organic Holidays.
Wales is the location for the romantic, fully restored, 19th century Gypsy Cwtch Romany Wagon in Llandysul (SA44 5XE) in which occupants can enjoy a bohemian lifestyle, lounging on a king size double bed, fitted with luxury micro-fibre bedding and cotton satin sheets and snugly nestling around a woodburner stove. Set amidst wild flowers and close to mature woodland, this is an idyllic holiday option enhanced by the added facilities provided by an adjacent eco-cabin.
When not drinking in the atmosphere within the caravan itself, with its unique interior complete with glass-fronted display cabinets, fancy curtains, brass mantelpiece, chest of drawers and cupboard space, guests can chill out on the hammocks and seats on the veranda of the eco-cabin. Inside, they will also enjoy using its fully equipped kitchen area with 2-burner hob, Belfast sink and fridge, relish the time they have to relax on the sofa and hunger for meal time to arrive and centre around a feast served on the eco-cabin's dining table. A wind-up radio can provide the entertainment and there is electricity to enable visitors to watch DVDs on a laptop.
Dressing gowns are provided for early morning and night time cabin visits, as a Swedish compost loo, extra large shower cubicle with rain shower head and wash basin are also located inside it.
With vegetables, honey and preserves available for purchase on site and other catering requirements accommodated where possible, dining in and al fresco feasts have never felt so good. Increased calorie intake can, however, be burned off on a coastal walk just 12 miles away, or on a lovely countryside stroll in this delightful 'cwtch- - a private, safe location or place within the heart.
The cost of staying here is £95 for a one-night, mid-week stay. A two-night stay costs £145, three nights £195 and then an additional £60 per night for a 4-night stay or more. If the stay is on a Friday or Saturday night, there is an additional £10 per night charge.

While the Organic Holidays website offers much inspiration when it comes to glamping options, the term glamping takes on a whole new dimension when it is in the Glamavan, also at Llandysul. The Glamavan was renovated in 2011 and oozes appeal thanks to its vintage retro and shabby chic interior and Cath Kidston furnishings.
The Glamavan sleeps 5, with accommodation comprising a double room with 4'6" bed, a twin room with two small beds (60cm x 180cm) and a window seat, which converts into a fifth sleeping area. A fully fitted kitchen has retro 50s cupboards, fridge, microwave, kettle and gas cooker, while a new bathroom with shower has its hot water supplied by gas combi-boiler. Add to this some little extra touches like fan heater, solar radio, barbeque and double glazing and it's a mini-paradise.
Children have a play area with Wendy house and trampoline and a travel cot and highchair are both available.
The minimum stay is for 3 nights at £70 per night and there are whole week stays, mid-week stays and term time stays with discounts available.
Glamping in a 21-ft diameter yurt, whose oak door way frames the view of the local church and where the views make it hard for the eyes to decide whether to focus on Bodmin moor or Dartmoor, is a sheer delight. Devon Yurt, located at Kelly, near Lifton in Devon but just a few miles from Cornwall, attracts visitor comments such as 'majestic and cool' and a 'unique and special experience' and in a location boasting the chance to enjoy pipistrelle bats in flight by night and the sound of songbirds to awaken you by dawn, it's little wonder.
Two yurts – Little Links and Great Links – are available for hire on the organic family smallholding and each enjoys its own private space. What they do share is a real glamping highlight – an eco bath tent, located in a separate field between the two yurts and fitted with a roll top bath. Here, guests can bathe by candlelight, star gaze and even say 'hello' to a friendly horse who likes to peek in! There is also the luxury of a modern wet room style shower on hand, which overlooks the moors and which provides a laundry, drying facility and washing up area.
The romantic Little Links has a double-sized bed, a fire pit outside and rustic benches, draped with sheepskins, which provide a seating area within its own garden. The serene Great Links has an Emperor sleigh bed with Egyptian cotton bedding, a fully fitted kitchen and a barbeque and outdoor games area. Both yurts have log burners and Belfast sinks, sun jars to light the room by night, tea towels, cloths, cool boxes, freezer packs – and even a freezer in which to re-freeze them. Guests can borrow wellies to collect their own eggs from free-range hens and can also take up the opportunity to pick their own salads, dig potatoes and feed a lamb.
In high season (mid July to August), Little Links costs £775 per week for two adults and a maximum of two children. Great Links costs £875 for 2 adults and up to 4 children. This drops in mid-season to £695 and £775 respectively and mid-week packages are also available. Weekend Glamping Packages, for those wanting a short taste of the experience, can be booked at two levels of luxury, featuring special added extras such as cake, ready-lit fire, flowers, candles and even a breakfast basket, depending on the option chosen.
Organic Holidays showcases 248 self-catering cottages on organic farms and 167 B&Bs and 22 hotels serving mainly organic produce, which all offer a great roof over the head of their guests, but if you wish to sleep in a property with a truly unique roof and eaves, The Roundhouse, at Bodrifty Farm in Cornwall is the Organic Holidays choice for you.
This unique self-catering property, located five miles from Penzance, is an authentic, atmospheric replica of the Celtic Chief's Roundhouse at the Bodrifty Iron Age Settlement just three miles away. A conical, thatched roof is set on a low granite wall and the visitor can step back into another time and place thanks to its atmospheric construction and the welcoming, well-stocked firebowl.
The principle may be Iron Age, but the level of comfort is truly 21st century, with the centrepiece being a four-poster bed crafted from local green oak. This is fitted with a top-of-the-range, hand pocket sprung organic mattress, luxury duck-down duvets and Egyptian cotton sheets – perhaps why so many mentions of glorious, sleep-filled nights pepper the visitor book!
Guests are given exclusive use of the Garden Quarters, where they can use a self-catering kitchen to prepare a treat of self-picked organic salad leaves and edible flowers, or something bought locally perhaps. A modern bathroom gives them the treat of a rainforest shower and an airy living space is ideal for those wishing to relax while enjoying a view of the gardens with Mount's Bay as their backdrop.
With no light pollution, no traffic and dark, starry nights, The Roundhouse is just an idyllic place to stay, whether you treat it as your own retreat, or whether you choose to step out to walk to the Celtic Iron Age round house, to pick up the South West Coastal Footpath close to Bodrifty, or to walk the ancient Tinners Way. Sennen Beach is close at hand and it's only a short distance to Land's End and the popular resort of St Ives.
Prices start from £250 for a two-night stay and during the summer (June to September) 2, 3, 4, 5 and 7 night breaks are available. Mini-moons and shorter breaks can also be discussed.
Whether you are a free spirit, or like to indulge yourself within four walls and in a more traditional fashion, there's an accommodation provider for you at organicholidays.com. Property options are available at both home and abroad, from Austria to Australia and lots of countries in between.