Citroen Nemo is Best City Van in Trade Van Driver Awards 2012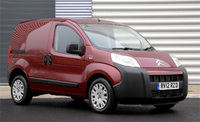 The Citroen Nemo has just gained the accolade of 'Best City Van' in the first Trade Van Driver (TVD) Awards. The TVD Awards judges praised the Citroen Nemo, saying; "The cheeky Nemo is ideal for city-based operations. It has a small footprint to winkle into those tight corners, but is capable of carrying up to 2.8m³ of cargo and returns amazing fuel economy figures. Add to this the expert back-up from Citroen's ever-increasing number of Business Centres and you have a worthy winner."

Scott Michael, Citroen's Commercial Vehicle Operations Manager, remarked; "The Nemo's suitability for urban operation has been recognised with its success in winning the Best City Van accolade in the TVD Awards. The Nemo is perfect for a wide variety of business applications and is sufficiently versatile to provide fuel-efficient, low-cost business transport for all types of operations, be they in or out of town."

The compact Citroen Nemo, which is less than 4.0m long, offers a big van payload of up to 660kg. Combined with its flexible load compartment, Citroen's 'smallest, biggest' van can handle cargos that would shame some larger vans. Available in three trim levels, the Nemo van is offered with a choice of Euro 5 petrol or diesel engines, which deliver combined cycle fuel economy of up to 68.9mpg and CO2 emissions as low as 109g/km.

The Nemo is also available with Stop & Start and Citroen's EGS automated manual gearbox, giving the benefits of two-pedal driving for just a comparatively small initial cost premium. As part of its versatile load compartment, the Nemo can be specified with a unique full-height, full-width mesh bulkhead. One half of the bulkhead can be folded alongside the driver allowing loads of nearly 2.5m to be carried, whilst ensuring the driver remains fully protected. All versions of the Nemo are well equipped and the Nemo Enterprise not only includes remote central locking and electric windows, but also a nearside sliding door, Bluetooth®, air conditioning and rear park sensors.

Priced from just £9,265 + VAT, the Citroen Nemo offers truly excellent value for money. In addition to its standard factory panel van configuration, it is also available through Citroen's Read to Run specialist vehicle programme in dual fuel (Petrol/LPG) format.

The new Trade Van Driver Awards give recognition to vehicle manufacturers who, in the opinion of the judges, offer the very best vehicles and services to retain and attract van buyers. Trade Van Driver magazine caters for the owner-driver and small fleet operator. The judging panel included a mix of journalists and a panel of readers who operate LCVs as part of their businesses.