Party Britain boosts park breaks and buyers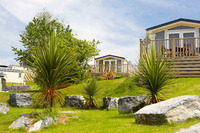 New figures from a leading holiday parks group suggest that Britons are catching the party spirit well in advance of the country's two big landmark events this year.

Holiday bookings on the website of Park Holidays UK are up by a massive 83 percent compared with this period last year, suggesting an upcoming summer of love for domestic holidays.

And even in March, says company director Tony Clish, families took 33 percent more breaks than in the same month in 2011 with a similar rise predicted for April.

"We have been supporting the work of the tourist boards in publicising Britain as the world's best holiday destination during this Olympics and Diamond Jubilee year," said Tony.

"Without doubt, there is going to be a party atmosphere throughout the country - and as our figures show, it's something which everybody seems wants to connect with.

"Park Holidays UK as a company is delighted, of course - but another great reason to celebrate is the extra millions of pounds which will be bolstering our tourism economy," he added.

Another figure released by Park Holidays UK indicates that the stay-cation trend of recent years is likely to intensify even further in the future.

The business says that sales of caravan holiday homes this year are so far up by 51 percent on last year's volume as families make a longer-term commitment to holidays in this country.

"Buyers of second homes are effectively saying that they have decided to regard Britain as their primary holiday destination for the foreseeable future," said Tony.

"Holiday home owners also tend to take more breaks right throughout the year which gives an additional boost to leisure spending in the coastal rural areas where we have parks," he commented.

Park Holidays UK, which came into being just five years ago, now has a portfolio of 25 coastal holiday parks in Devon and southern and eastern England.

The group has won a reputation within the holiday industry for investing substantially in its accommodation and facilities in order to create the highest possible standards.

More information about holidays and second-home ownership, plus seasonal deals currently on offer, is available at ParkHolidays.co.uk.