Run a pain free marathon with PainNoMore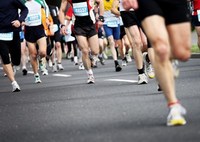 26 miles. That's a long ol' way. Running the London Marathon, all 26 miles of it, will leave your muscles burning and tired, however much you have trained for it. You're going to cross that finish line and the first thing you'll want, after a sit down maybe, will be pain relief. This is where PainNoMore Miracle Massage Cream can help.
A unique massage lotion combining collagen (ideal for protecting and repairing muscle, cartilage and bone and facilitating joint mobility) with aloe vera (an effective anti-inflammatory), PainNoMore provides instant pain relief from the outside in. Designed to cater for those seeking quick-fix relief from sporting injuries and aches, this innovative cream is the ultimate marathon survival product, helping to protect the body and alleviate debilitating aches and pains.
PainNoMore has a deep-heat type sensation providing the perfect antidote to a host of complaints including:
Muscle and joint pain
Tired, aching muscles
Sore limbs (including the feet)
Neck tension and headaches
Cramp
Burning leg sensations
Before and after exercise (to relax muscles and prevent stiffness)
Packaged in a 100ml tube, this product is easily transportable, slipping into any bag. Simply apply a thin layer where and when needed and gently massage until absorbed.
PainNoMore is priced £13.95 for one tub or £36 for 3 tubes. For more information or to order visit LookAndHealth.com.