DoubleTree by Hilton to host Amsterdam's Party People for Queen's Day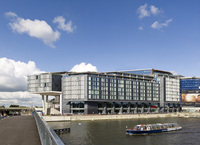 30 April will see the city of Amsterdam abuzz with festival fun as locals and visitors take to the streets for the annual "Konninginnedag" ("Queen's Day") celebrations. With its premier location, adjacent to Centraal Station in the historic city centre, there's no better address than the new DoubleTree by Hilton Amsterdam Centraal Station from which to revel in the festivities.
In celebration of the Dutch queen mother's birthday on 30 April, Konninginnedag is a public holiday in The Netherlands and marks Amsterdam's biggest street party. In the streets, canals, parks and everywhere in between, the city is bursting with orange as Amsterdammers and visitors enjoy live music, DJs, parties and a citywide flea market – one of the world's largest. For children there's face painting, games and sporting events and many even try their hand at street performing or trading by setting up stalls to sell old toys and clothes they've outgrown.
There isn't a better time to experience Amsterdam's party atmosphere than on Queen's Day and DoubleTree by Hilton Amsterdam Centraal Station has double rooms available from €269 on Monday, 30 April 2012.
The 553-room DoubleTree by Hilton Amsterdam Centraal Station hotel, which opened in June 2011 and became a DoubleTree by Hilton in late 2011, is perfectly located for soaking up the electric atmosphere of the festival. Guests can also explore Dam Square, enjoy a world-renowned canal tour and visit key attractions such as Leidseplein, Rijksmuseum, the Van Gogh Museum and the Anne Frank Museum, all of which are just 2km from the hotel.
DoubleTree by Hilton Amsterdam Centraal Station imbues a modern architectural design that is characterised by its transparency and versatility. Large, floor-to-ceiling windows are featured in each guest room, meeting room and all bars and restaurant spaces within the hotel, providing plenty of daylight and impressive views of the city. Several outdoor areas such as waterfront terraces, sky terrace, suite balconies, courtyard and private roof terraces ensure that each and every guest can enjoy the serenity of the city from the tranquillity of the hotel.
Guestrooms and suites at the hotel are spacious and designed for comfort, featuring a variety of essential and innovative in-room amenities including an Apple iMac computer which functions both as a TV and computer, generous work desks, gourmet in-room coffee and tea service. Complimentary high-speed internet access is available throughout the hotel as well as in each guest room.
Diners at DoubleTree by Hilton Amsterdam Centraal Station have several options designed by Head Chef Marcel de Leeuw. City Café is a restaurant where guests eat either indoors or al fresco on a waterfront terrace. The East Dock Lounge combines impressive space with a coffee culture intimacy. The Lobby Bar is an ideal destination to enjoy cocktails, beers and wines as well as light lunches and sharing platters. Skylounge, Amsterdam's much-talked-about rooftop gathering place, offers a dramatic vantage point 11 storeys above the city. It's the perfect venue for soaking up the festival atmosphere over a cocktail.
Just 15 minutes by express train from Amsterdam Schipol International Airport, DoubleTree by Hilton Amsterdam Centraal Station is located at Oosterdoksstraat 4, Amsterdam, Netherlands 1011 DK. For more information about DoubleTree by Hilton Amsterdam Centraal Station, visit the hotel's dedicated webpage at doubletree.com.