Whales & Wine in South Africa this May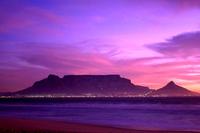 Fleewinter has created the perfect itinerary to discover the Cape of South Africa this May, combining a city-stay by the beach in Cape Town with whale-watching in Plettenberg Bay on the Garden Route, and a visit to the famous Winelands, providing a chance to imbibe to your heart's content on some of the regions wines which have won world-wide acclaim.
The holiday commences with six nights staying at Oceane in Camps Bay – the trendy Cape Town suburb and favoured holiday haunt of the rich and famous including David and Elton! The two-bedroomed (2 bathrooms) apartment has ocean, mountain and coastal views and is within walking distance of the beach front, which is lined with bars and restaurants including 'Blues', which Camps Bay is so well known for.
Following a thorough exploration of Cape Town the next stop is pretty Plettenberg Bay, which is renowned for its coastline, beaches and dolphin and Southern Right Whale sightings. Accommodation is at De Meermin, (3 bedrooms, 2 bathrooms) an apartment with a large ocean facing terrace and views of the bay. The stay includes a whale boat excursion aboard a licensed whale boat which, unlike other vessels, is permitted to approach within 50m.
The itinerary ends with 2 nights in the Winelands staying at the 4-star La Fontaine hotel in Franschhoek, just a short walk from the town centre with its wide choice of fine-dining restaurants. Franschhoek is also home to Le Quartier Français, rated as one of the best restaurants in the world by Restaurant magazine.
The holiday costs from £1299 per person (4 sharing) which includes international flights, car hire for the full duration of the trip, (collected and returned to Cape Town Airport), six-nights' self-catering in Cape Town, 4-nights' self-catering at Plettenberg Bay and two-nights' B&B at La Fontaine in Franschhoek.
Fleewinter tailor-makes holidays and any of the elements in this suggested itinerary are changeable. The Fleewinter website details a wide range of accommodations to choose from and Fleewinter's expert holiday consultants can also make other recommendations.
For more information, visit fleewinter.com.