It's plane to see - Virgin's got class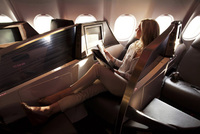 Virgin Atlantic has unveiled its redesigned Upper Class Cabin and will showcase its new features using a unique piece of software – PlaneView - allowing passengers to take a fully immersive virtual tour of the cabin and view its features in the most social showroom on the web.
The long haul airline has invested £100 million into its Upper Class product and with PlaneView, customers will be able to experience the key features of the redesigned cabin online before they step foot on the real world aircraft.
The PlaneView virtual showroom will link to more than 40 interactive YouTube videos showcasing details of the newly designed cabin. Users will be able to explore even the smallest details of the aircraft in a 3D environment captured with specialist photographic equipment, giving them a comprehensive idea of what it's really like to fly Virgin Atlantic Upper Class.
PlaneView will showcase elements within the cabin via a series of clickable videos including the brand new bar - the longest in the sky - which stretches 2.5 metres and has space to accommodate eight people, bespoke Swarovski crystal curtains adorned with over 1,000 crystals and new cabin mood lighting to create eight separate atmospheres during the flight. Prospective passengers can enjoy a laid-back cocktail at the bar, choose their perfect in-flight movie and even check the overhead storage space – all from the comfort of their own home.
The Upper Class Cabin, which has taken four and a half years to build, will also feature the new Upper Class Suite, Virgin Atlantic's most sophisticated and comfortable bed to date – incorporating a new comfort system, an innovative new entertainment hub as well as a host of new design elements to maximise space and comfort in-flight.
Paul Sands, Head of Customer Experience of Virgin Atlantic said "We've been keeping many elements of the new suite under wraps over the past year so we can't wait to welcome thousands of customers on board today with PlaneView and many more in real life over the next few months. The sheer innovation that runs through this pioneering product again showcases our ambition to be the leaders of the aviation industry in terms of customer experience and innovation."
Virgin Atlantic's PlaneView showroom can be accessed at virginatlanticplaneview.com.