Acacia Africa launch Travelling Book Depository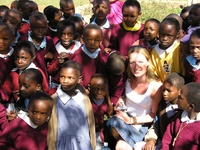 According to Acacia Africa overlanding makes it easier to give back, numerous countries, voluntour activities and visits to non-profit organisations appearing on any one expedition. The tour operator currently supports various schools and projects across the continent, travellers helping to paint classrooms, visiting local villages or teaching as part of a lengthier voluntour. Highlighting their responsible ethos, the Africa specialist is launching the "Travelling Book Depository". Aimed at those booking overland trips, the initiative hopes to encourage adventurers to pack and drop children's books at various points on their tour.
Leanne Haigh, Project & Development Manager at Acacia Africa, comments, "These are resources that most of us take for granted, but in Africa and more especially in Malawi, one of the continent's poorest countries, books are in short supply. While we include formal school visits on many of our itineraries, there are also plenty of alternative destinations that would benefit, including the Cape's Townships, a regular feature on our tours."
The 14-day Gorilla Encounter expedition includes a day of voluntouring in Jinja. Activities involve helping to build and paint classrooms and assisting with pre-school education. From £985pp (no single supplement) + gorilla permit from £350pp. Starts Kampala – ends Kampala.
On the 11-day Highlights of Tanzania itinerary travellers will go walking with the Masai, the trip ending with a visit to the guide's village. From £1,081pp (no single supplement). Starts Dar Es Salaam – ends Nairobi.
The 41-day Cape Town To Kenya kicks off with a visit to Langa, one of city's largest townships. The complete tour includes a visit to a family home and a shabeen (pub), the group led by a local resident. From £2,558pp (no single supplement). Starts Cape Town – ends Nairobi.
An afternoon at a local school in Malawi is included on the 22-day Zanzibar, Victoria Falls & Kruger. Alternatively, adventurers can saddle up on horseback and ride out to nearby villages. From £1,321pp (no single supplement). Starts Dar Es Salaam – ends Johannesburg.
Acacia Africa also has informal links with several schools in Swakopmund, so once adventurers have surfed the dunes they can also drop off a book or two in Namibia's adventure playground. 19-day Desert Tracker from £1,150pp (no single supplement). Starts Cape Town – ends Livingstone.
Leanne Haigh, comments, "We're hoping that our new initiative will encourage travellers to think more ethically about what to include in their backpack. And, as with any responsible gift giving, we would advise that all books are given to the tour leader and distributed directly to the children by a teacher or village elder.
For more information, visit acacia-africa.com.