Acura's starring role in Marvel's the Avengers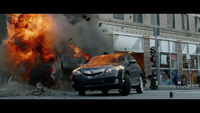 Honda's luxury brand, Acura, has joined forces with Marvel Entertainment, LLC, for this summer's most anticipated film, Marvel's The Avengers, which is premiered in the UK this Friday. Following, the use of Acura models in Marvel's 2011 film Thor, Acura is building on its established role as the official vehicle of S.H.I.E.L.D.

S.H.I.E.L.D., the international peacekeeping agency of the Marvel Universe, has a leading role in this film portrayal of the iconic comic book series. Throughout Marvel's The Avengers, S.H.I.E.L.D. agents drive various Acura vehicles, including the MDX, ZDX and TL models; the completely redesigned 2013 RDX will make a cameo appearance. In addition, an Acura convertible sports car was created specifically for the film.

"Acura is developing an impressive second chapter as the official vehicle of the cutting-edge S.H.I.E.L.D. organisation, enabling us to reinforce Acura's brand philosophy of innovation and advancement, and leverage excitement for the new ILX, RDX and NSX supercar concept product news announced earlier this year," said Susie Rossick, Acura Brand Manager.

The hub of Acura's advertising campaign for Marvel's The Avengers, SHIELDops.com, allows fans to immerse themselves in the world of S.H.I.E.L.D. and Marvel's The Avengers. Users can rise within the ranks of S.H.I.E.L.D. by testing Avengers-inspired technology mounted to S.H.I.E.L.D.-Edition Acura vehicles.

The tests take place within different combat simulation environments that correspond with the four main characters: Iron Man, Hulk, Captain America and Thor. As users attain a specific S.H.I.E.L.D. rank, they earn the chance to win movie passes and S.H.I.E.L.D. gear, including a branded tactical flashlight, a replica Acura convertible sports car (created for and featured in Marvel's The Avengers) and a virtual keyboard.