Sud de France Festival returns to London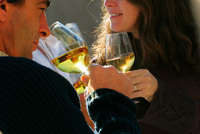 The Sud de France Festival, celebrating the Mediterranean flavours of Languedoc-Rousillon - the largest wine-producing region of France - is to return to the capital for the fourth year running, from 11-29 June.
Events including wine tastings, masterclasses, a presence at Taste of London and a boules tournament, will take place across the city during the three weeks of festivities, as well as promotions in retailers nationwide.
The Festival kicks off with "Football the French way" on 11 June, when spectators are invited to sit back and enjoy the France v England World Cup match with a selection of free Languedoc-Rousillon wines and regional canapés at Maison de la région Languedoc-Roussillon in Cavendish Square.
Sud de France has teamed up with Master of Wine and Languedoc-Rousillon resident Matthew Stubbs to run the Sud de France Master Level Programme during the festival. Leading to an industry-endorsed qualification, the two-day course (date to be confirmed) is perfect for wine enthusiasts and educators looking to further their knowledge of the region's wines.
On 16 June we'll be passing the time French-style, with a traditional boules tournament at Balls Brothers in Hay's Galleria. Entry is £15 for a team of three and includes a free bottle of wine.
For any girls wishing to escape Euro 2012, on 19 June Maison de la région Languedoc-Roussillon will be a football-free zone, with a girls-only wine tasting masterclass. If you feel intimidated by wine and would like to learn more in a fun and informal environment, this is the event for you! Tickets cost £15 in advance and include 12 wines and nibbles.
The festivities will continue from 21-24 June when Sud de France takes up residence at Taste of London, the prestigious food festival gathering the capital's top chefs and restaurants in Regent's Park. The Sud de France Wine Experience tent will offer a selection of the region's best wines to purchase by the glass or bottle/case (home delivery only), plus free informal wine masterclasses three times a day.
A series of wine promotions will take place in retailers across the country during the festival, with tastings and offers planned at all branches of Majestic Wines and over 100 Waitrose stores, as well as a number of independent merchants.
The Sud de France Festival promises to transport consumers to the region of Languedoc-Rousillon through its wide range of food and wine exports, with experiential events offering a sense of the Mediterranean lifestyle and beautiful French countryside tourists could enjoy should they visit the region.

For more information, visit festival-suddefrance.com / sud-de-france.com/en