The Bridge DVD and Blu-ray release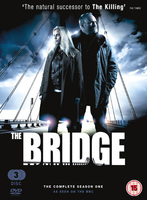 Arrow Films' Nordic Noir label have confirmed May 21st DVD and Blu-ray Box Set release of all-conquering Danish/Swedish investigative crime thriller The Bridge.

Upon its television debut in BBC4's prestigious Saturday night slot, last weekend, The Bridge pulled in over 1 million viewers, the highest ratings for a Nordic series debut to date. The UK public were clearly enthralled by the first-time collaboration between the Danish production company DR (producers of The Killing and Borgen) and their Swedish counterparts SVT (producers of Wallander).

Comprised of 10 hour long episodes; The Bridge begins when the body of a woman is found exactly in the middle of the Øresund Bridge, which connects the Swedish city of Malmö and the Danish capital Copenhagen. As the top-half of the body has been placed precisely in Swedish territory, and bottom half in Danish territory, a bi-national Scandinavian detective team is put together to solve the crime.
From the Swedish side is Saga Norén (played by Sofia Helin), a beautiful blonde detective who is already being hailed as the new Sarah Lund. Norén is prolific in her work life, but struggles in all manner of social situations. Holding other people's feelings and opinions in little regard, she shows traits associated with Asperger's Syndrome, although she is never officially diagnosed.

Noren's Nordic equivalent couldn't be more different, Martin Rohde (played by The Killing's Kim Bodnia) is a middle-aged family man, dishevelled and consummately laid back. Rohde treads carefully when getting to know his new partner, but the mismatched pair must overcome their differences if they are to catch the murderer.

Loved by critics and the UK public alike, following on from The Killing and Borgen in recent times, The Bridge looks set not only to equal the success of its predecessors, but better it, hopefully paving the way for further Danish/Swedish collaborations in the future.
Release Date Monday 21st May 2012
Language Danish/Swedish (English Subtitles)
Region 2 / B
Running Time TBC (10 episodes x TBCmins)
DVD Catalogue Number FCD609
DVD Barcode 5027035007762
Blu-Ray Catalogue Number FCD617
Blu-Ray Barcode 5027035007847