Market House - Brixton: New Bar & Venue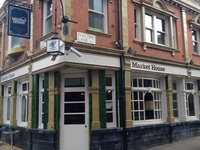 Brixton continues in its rising popularity with a new independent venue Market House opening its doors this spring. Built over 100 years ago as part of the Truman Brewery empire, the building, located in Coldharbour Lane, has been lovingly restored revealing the original ornate facade, in all its former splendour. The interior re-ignites the trend for all things vintage with a mad cap selection of eclectic furnishings, light fittings and reclaimed materials, offering cosy hideaways, dining areas and lounge seating.
Market House itself aims to be an unpretentious 'speakeasy' bar, bistro and music hall in central Brixton, supporting local and independent suppliers of organic beers, ales, ciders and wines. Daytimes and early evenings, Market House dons the bistro hat, again sourcing much of its produce from suppliers of grass-fed and organic meats, sustainably sourced fish and independent local traders for fruit and vegetables.
Food & Drink:
Food ranges from classic British fare including organic Hereford beef burgers (The Market House Burger) with double cooked chips and organic ketchup, Beer Battered Haddock with homemade tartar sauce and chips, or The Ultimate Club Sandwich with free range chicken, oven dried tomatoes, streaky bacon and organic parmesan with caesar dressing in a sourdough calfone bread - to - more Mediterranean dishes such as Greek Spanakopita with its light filo pastry filled with ricotta cheese and spinach, served with tzatziki yoghurt dip and mixed leaf salad.
Music:
Music promises to be a more left-of-centre affair with deejays and live acts steering away from the more traditional weekend anthems to a wider range of vintage/modern global sounds. Weekend selectors will be aiming squarely at the feet with an array of feelgood retro-reggae, diggin-the-crates funk, blues 'n' breaks, tropicalismo, twisted disco and then some - till 4am.
The Official Opening:
Thursday 10th May promises a mind-blowing carnival with a free cocktail giveaways and a complimentary food tasting fiesta. Plus three of Londons pioneering promoters deliver a super heavyweight selection of tropical beats with dancefloor cumbias, baile funk mash ups, funky reggae, red hot sambas and then some with DJ Cliffy (Batmacumba), Russ Jones, aka the Hackney Globe Trotter and Cal Jader (Movimentos), all showcasing the newest and finest sounds straight from the Favelas and Latin Barrio. Performing live will be Brixton's own Eri Okan - a samba school, an afro block, an expression of original street culture, integral to London; its roots are in scorching rhythms from North East Brazil.
For more information, visit market-house.co.uk.