Computer DIY to help UK anger management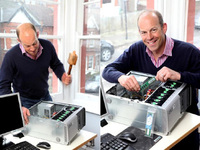 Expanding the British DIY focus from painting walls and replacing flooring to do-it-yourself memory upgrades in home computers could serve to de-stress households around the country, according to new insights revealed today. A recent survey of more than 2,000 Brits aged 18-70 revealed a shocking level of frustration among UK computer owners.
Not knowing what to do may be the issue as although 60% of those surveyed admit to being frustrated by the amount of time a slow computer wastes, a quarter actually get frustrated as they simply don't know how to sort out slow running PCs.
The research results, commissioned by Crucial.com, show that one in ten of us have become so angry with our computers that we have physically attacked our machine because it runs too slowly. In fact, half of us admit to shouting and swearing at our computers. But, despite 90% of us Brits being happy to redecorate our homes on our own, less than half of those surveyed would consider turning our attention to our computer and performing a simple memory upgrade.
Phil Spencer, the property and home improvement expert from Channel 4's "Secret Agent" television program commented: "I've experienced this frustration recently and despite advising other people how best to make improvements within their home as a Secret Agent, I'd previously been unaware of just how simple it is to remedy a slow running computer. Just as the way we use our homes is changing, the demands we now put on our computers have also changed. Extra memory can really help."
Nearly half the country admit to doing DIY for a total of more than 8 days each year, with 88% painting their own home whilst 40% do their own flooring and over a fifth of us will even do our own electrics. However, there seems to be reluctance in performing a relatively easy computer hardware upgrade. Nearly 40% of those surveyed won't do DIY on their computer such as adding new hardware like a solid state drive (SSD) and computer memory (RAM) because they are worried it is too complicated; whilst 30% feel they might break it. Additionally, 10% of those surveyed think it is too expensive, and 6% think it will simply take too long.
Roddy McLean, marketing director of Crucial.com said: "We really are a nation of DIY addicts, but for some reason this doesn't stretch to our home computers. Installing an easy-to-do memory upgrade is the modern day equivalent of DIY; if you can change a plug or paint a wall you can install a memory upgrade."
Visit crucial.com for more information.