Mitsuko Delivers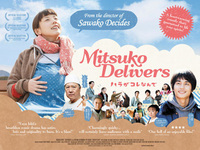 Third Window Films announce the theatrical release of Mitsuko Delivers, a film by Yuya Ishii (Sawako Decides).
Mitsuko is in her ninth month of pregnancy. Her parents (serial failed entrepreneurs) think that she's in California with the baby's GI father, and she's happy to leave them in ignorance. But she's actually back in Tokyo, broke and friendless. So she has her flat cleared, gets into a taxi she can't pay for, and follows a cloud back to the little working-class alley where she grew up. The place is pretty run-down and depressed these days, but Mitsuko's can-do, bull-in-a-china-shop attitude soon shakes everyone up. There's much to be done. The little diner needs more customers, the alley's elderly woman owner needs carers, the tongue-tied man who could never propose to the widow in the coffee-shop needs a push... So much to do, so little time before Mitsuko goes into labour. Yuya Ishii follows Sawako Decides with another breathless comic drama about a girl asserting herself when all around her are floundering.
Director Yuya Ishii and Actress Riisa Naka – two young talents join forces!
The 28-year-old film director, Yuya Ishii, has now burst on the world scene with his brilliant filmmaking. Ishii's film 'Mitsuko Delivers' was featured in the 37th Rotterdam International Film Festival and the 32nd Hong Kong International Film Festival – an exceptional honour for a fledgling director. At the Hong Kong Asia Film Awards, Ishii was again recognized and awarded the inaugural "Edward Yang New Talent Award."
Back home in Japan, Ishii won the Pia Film Festival Grand Prix in 2007 for "Mukidashi Nippon" (Bare-Assed Japan) and followed up with the mega-hit "Sawako Decides" (2010) for which he won the Best Director at the Blue Ribbon Awards and the Best New Director Award at the Yokohama Film Festival. His next film "A Man with Style" was again, highly acclaimed. The entire world has been enthralled with the originality of Ishii's world that eludes categorization in any single genre.
The actress chosen to star in director Ishii's newest venture is Riisa Naka, winner of this year's Japan Academy Award for Best New Actress. Her film credits include "Toki wo Kakeru Shojo" (The Girl Who Leapt Through Time) and "Zebraman ~ ZebraCityno Gyakushuu" (Zebraman: Vengeful Zebra City) as well as a number of TV commercials. Naka meets director Ishii's world view head on, with a boldness that belies her sweet image. Evolving as the newest muse of Japanese film, "Hara Ga Kore NandeiMitsuko Deliversj is destined to be one of Naka's showcase films.