Game of Thrones fans flock to Andalucia, while movie stars make a beeline for Mallorca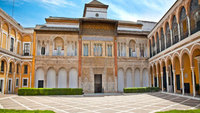 Spain has long been the darling of movie and TV location specialists. With reliably fabulous weather, stunning open countryside and a plethora of ancient castles, crumbling fortifications and winding streets, it is the perfect place to shoot anything from blockbusters to hit TV series.
Game of Thrones, much of the current season of which has been filmed in and around Seville, is the latest high profile TV series to shoot on location in Spain, following in the footsteps of TV series Mad Dogs, which was filmed on the Balearic Island of Mallorca and biblical epic Clavius, also filmed in Andalucia.
Seville's Alczar Palace and the bullring in the nearby town of Osuna have featured prominently in the fifth season of hit show Game of Thrones and have led to a considerable boost in tourism in the region. Figures from Skyscanner reveal a 107% increase in searches for Seville by foreign tourists following the airing of the first episodes of the fifth season, compared with figures for the previous year.
Overall, tourism figures in Andalucia are up 9.6% during Q1 2015 compare with the same period in 2014, with the Andalucian Tourism Situation Survey recording a total of 4.27 million visitors during the quarter.
Nor is it just Andalucia that is enjoying the benefits of its blockbuster credentials. The Marbella International Film Festival, which is renowned for attracting a glitzy, star-studded crowd, this year celebrates its tenth year. Meanwhile the Evolution Mallorca International Film Festival attracts a younger, hipper and more daring following and though only started in 2012 has already garnered an impressive reputation among the world's international filmmakers.
Mallorca is enjoying a significant boom in its filming industry at present, with Mallorca Spotlight reporting an 11% increase in the number of films in 2014, compared with the previous year, with 137 filmings accounting for a total of 469 filming days on the island. The Palma Film Office can take some credit for the increase, having been set up to enable production companies to more easily obtain permits, close streets and use public buildings, with location scouts able to search its gallery of images in much the same way that a holidaymaker might browse a travel portal.
Marc Pritchard, Sales and Marketing Director of leading Spanish homebuilder Taylor Wimpey Espana and Mallorca resident, comments, "It's fantastic that Mallorca is enjoying such a boom in its reputation as a filming location. The fantastic weather and range of stunning locations provide an ideal environment for shooting everything from adverts to films and the island is fast becoming one of the movie industry's favourite locales."
Movie stars who enjoy their time on the island so much that they don't want to leave can enjoy superior second homes at the stunning Cala Anguila II development, where beautiful apartments with direct access to the beach are available from €245,000. Owners of the high spec properties can enjoy spacious private gardens or roof terraces, as well as a delightful pool and peaceful grounds.
Those looking for a more affordable alternative need look no further than the selection of exclusive apartments and townhouses at Costa Beach, where prices start from as little as €240,000 for a two bedroom apartment. Direct beach access, lush gardens, a sizeable pool and fabulous sea views are just some of the development's top features, while the local area also offers four excellent golf courses and a number of white, sandy beaches.
Homeowners on Mallorca can look forward to rubbing shoulders with a wide range of celebrities, either visiting the island to film their latest hit movie or simply enjoying Mallorca as an idyllic holiday destination. According to EuroTravel Magazine, Goldie Hawn, Eva Longoria, Sting, Joan Collins, Antonio Banderas and Melanie Griffiths have all been spotted on the island recently, while Shane Ritchie likes to head there after filming finishes in the UK on a Friday, to spend the weekend in the sunshine before returning to England to continue filming the following week.
For more information, visit taylorwimpeyspain.com.