Taylor Wimpey Espana shares tips for first-time overseas property buyers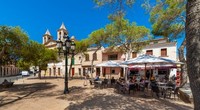 Leading Spanish home builder Taylor Wimpey Espana is drawing on its 60+ years of experience to provide information and advice to those who are new to buying property abroad. During that time, the company has sold homes to clients of more than 40 nationalities, with properties spanning the Costa del Sol, Costa Blanca, Ibiza and Mallorca.
"Deciding to buy a home in another country can be hugely exciting but also rather daunting. There are plenty of unknowns involved, from legal processes and unexpected costs to administrative requirements. But a detailed, methodical approach can ensure you buy safely while still enjoying the process – as well as the outcome."
Marc Pritchard, Sales and Marketing Director of Taylor Wimpey Espana
The company's first piece of advice is to buy through a reputable agent/developer with a long and unblemished track record. It is advice that is echoed by the team at Property Guides, whose Spain Buying Guide lists "a trustworthy estate agent and a good, specialist lawyer" as absolute non-negotiables.
Taylor Wimpey Espana also advises seeking clarity on the buying process and legal timetable at an early stage.
"It's essential to understand the legal hoops you need to jump through in order to buy a property abroad. That includes any parts of the process that will require your physical presence in the country in which you're buying – although thankfully so much can be done digitally these days. Being clear from the outset on what's involved and what the timescales are can cut out a vast amount of unnecessary stress further down the line."
Marc Pritchard, Sales and Marketing Director of Taylor Wimpey Espana
Also important is not making assumptions, particularly when it comes to a property's intended use. Many countries and regions have restrictions around renting out holiday properties. This means that those who plan to buy a second home and then rent it out when not in use need to do their research. Local rental licence requirements also warrant careful investigation. And with the UK having left the EU, so do visa requirements and restrictions.
Another tip from Property Guides is to lock in your currency exchange rate as soon as you are certain you are buying, using a Forward Contract. By doing so, you don't leave yourself exposed to the risk of exchange rate volatility making the property more expensive by the time you sign on the dotted line.
Finally, the Taylor Wimpey Espana team points out that buying a second home overseas is about more than your four walls.
"Don't forget about all those things that make a house a home. That means planning for big ticket items like furniture, both from a cost perspective and in terms of practical arrangements. Again, this is something that can be fun when you're organised or a pain if you leave it to the last minute!"
Marc Pritchard, Sales and Marketing Director of Taylor Wimpey Espana
For those looking for inspiration for their first overseas property purchase, Taylor Wimpey Espana has plenty to offer. Green Golf in Estepona, Malaga, provides key-ready, frontline golf properties with south-west facing gardens, in a gated development with communal gardens and pools, priced from just €310,000 plus VAT. Compass in Mallorca, meanwhile, provides spacious, key-ready apartments with landscaped communal gardens and pools, just metres from the Cala D´Or Marina. Prices start from €272,000 plus VAT.
For more information, visit taylorwimpeyspain.com