Residential property market on Mallorca continues to boom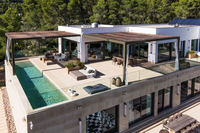 The demand for residential property on Mallorca remains at a high level, with the number of sales transactions overall on the market rising by around 20% in 2017. "This positive development is boosting buyer confidence, as they are investing in a continually growing market," said Florian Hofer, Managing Director of Engel & Völkers on the Balearics. The 17 Engel & Völkers residential property shops in Mallorca also recorded an increase in 2017 when overall sales transaction volume grew over 2016 by 40% to around half a billion euros.
Excess demand resulting in the resurgence of particular areas
The high level of demand for residential property last year led to a shortage of available properties on the market. The premium segment, in particular, quickly developed towards a seller's market. This substantial interest has led to a resurgence of areas by investors that were less their focus several years ago. These include, for example, the coastal resorts of Playa de Palma and Cala Major. International buyers continue to dominate the Mallorcan property market, led by clients from German-speaking countries, the UK and Scandinavia. The number of Spanish nationals interested in a property on Mallorca is also on the rise and one reason for this is the reviving Spanish economy.
Highest average prices for homes in the southwest and in Son Vida
Top regions in Majorca's premium market segments include the island's southwest and Son Vida. The most desirable types of property in the southwest are villas directly on the coast and penthouses – especially if they are new construction. The average price for villas in the most exclusive location of Puerto de Andratx was 4.5 million euros in 2017. Freehold apartments in Bendinat and Puerto Portals had an average price of 800,000 euros last year. No other region on Majorca witnessed such sharp rises in average prices for houses and apartments in 2017 than the southwest.
In Son Vida, villas with sea views and classic Mediterranean properties with large gardens are especially sought after. The last few years has also seen a rise in demand for contemporary villas designed by well-known architects and the average price for these type of premium properties was also 4.5 million euros in 2017. Engel & Völkers is anticipating further price rises, due to the fact that no new building permits will be granted in Son Vida in the future. Some exceptional properties can also be found in the north of Mallorca. Particularly in the Formentor region where the average price for villas in 2017 was 4.5 million euros. Properties directly by the sea are extremely rare here. Engel & Völkers is observing a trend towards increased interest in rural properties with a pool, located some 15 minutes' drive from the coast. Additionally, the north features premium apartments in Puerto Pollensa, which sold for an average price of 400,000 euros in 2017.

Many property sales in Palma de Mallorca
In 2017, almost half (43 percent) of all residential property sales on the overall Mallorcan market were made in Palma. Compared to the previous year, the average price for exclusive townhouses in the old town of Palma rose to 3.8 million euros. Freehold apartments in the island's capital are also especially in high demand. On the stretch of coastline between the districts of Portixol and Ciudad Jardín, apartments with sea views sold for an average price of 800,000 euros. The El Terreno quarter in Palma currently offers good investment potential, as prices remain moderate for the time being. Some of the highest prices for residential properties in the premium segment are found in Majorca's west. In 2017, the average price for houses in the prime location of Deiá was 3.5 million euros. Other sought-after locations include Valldemossa and Puerto de Sóller.
Traditional fincas remain desirable investments
Due to their proximity to Palma, Puig de Ros and Cala Blava in the south of Mallorca remain particularly popular. The average price of villas here beside the sea with views over the Bay of Palma, was 1.9 million euros in 2017. Some of the most exclusive areas in the centre of the island include Santa Maria and Alaró. The most desirable types of property here include traditional fincas with modern amenities. In 2017, premium homes of this kind sold for an average price of 1.8 million euros. Buyers in the northeast of Mallorca tend to be looking for villas close to the coast and fincas in the region around Artà. The average price last year for such properties in prime locations was 1.7 million euros. In the southeast of Mallorca, the region around Santanyí was in high demand – especially among clients from Germany. In 2017, villas directly by the sea and fincas in this area sold for an average price of 1.6 million euros.
Outlook: Prices to continue to rise in 2018
According to Engel & Völkers, Mallorca will remain a desirable hotspot for second homes throughout this year as well. This is due not only to the diverse countryside and mild climate, but also to the good infrastructure that is set to further improve in the future. Facilities such as international schools and excellent health provision also make it possible to live on the island throughout the year. The international airport in Palma ensures easy access and provides good flight connections. Stable economic and political conditions also contribute to the island's desirability as a holiday destination. "With such a high excess demand in mind, we are expecting further price rises for property in the premium segment still to come," said Florian Hofer. The ever-dwindling number of available building plots in prime locations will only intensify this upward trend in the future".
What's on the premium market in Mallorca?
1. This expansive finca is currently on the market in Andratx, with panoramic views over the Tramuntana Mountains, the local port and open sea. The main house, a guesthouse and another building with a gym and spa are set on a large plateau spanning 4.11 hectares that affords the utmost privacy. The sale price is 8.5 million euros.
E&V ID: W-02847E (Photo source: Engel & Völkers Majorca Southwest)

2. This duplex penthouse is located close to Palma Cathedral. The property boasts a roof terrace with a Jacuzzi, an elevator and a private parking space. In addition, it affords views over Palma's old town and the Mediterranean. The apartment is currently on sale for 2.4 million euros. E&V ID: W-029TEO (Photo credit: Engel & Völkers Palma Centre & East)
3. Overlooking the island's capital Palma de Mallorca and the Bay of Palma, this contemporary villa is currently on the market in Son Vida. The luxury property affords 1,040 square metres of living space, with six bedrooms and six bathrooms. Two pools, a chill-out area with sand, a spa area and a wine cellar round off this home. The sale price is 10.9 million euros. E&V ID: W-024N8D (Photo credit: Marco Richter /Engel & Völkers Palma Surroundings).
4. This residence in Deià is currently on sale for 23 million euros. The finca presides over an interior of 518 square metres and grounds spanning 10.84 hectares. Absolutely unique views can be enjoyed from here of the village of Deià, the surrounding mountains and the sea. E&V ID: W-025HZC (Photo source: Engel & Völkers Mallorca West)